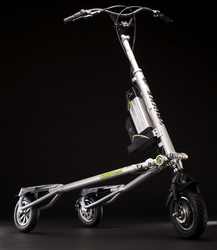 We believe that the Pon-e represents a breakthrough product on many levels because it can be used in so many different ways
Santa Barbara County, CA (Vocus) October 1, 2009
Trikke Tech, Inc., the world leader in 3-point carving vehicles, announced today the release of its long awaited three-wheeled electric vehicle called the Tribred Pon-e for personal commuter transportation and recreation. This second generation front-wheel drive stand-on vehicle represents the culmination of eight years of design development that fuses the best of light-weight electric power technologies with the unmatched agility of the three point Trikke vehicle design.
Built on the popular and road proven T8Air chassis, the Tribred Pon-e has dual disc brakes, a hot-swapable Lithium Ion Battery, custom performance motorcycle compound tires and is capable of reaching 18 MPH on flat ground with a 20 mile range per charge. The average cost of a full battery charge is $0.07 - fractions of a cent per mile. The entire vehicle weighs 38 lbs and quickly folds down to easily transport in a car trunk or boat locker.
"We believe that the Pon-e represents a breakthrough product on many levels because it can be used in so many different ways," commented John Simpson, CEO of Trikke Tech. "It offers a remarkable fusion of stable, green commuter transportation with exercise and incredible fun. I commute 8 miles each way on a Pon-e, and it feels like I'm downhill skiing to and from work. More importantly, it means one less car on the road."
As a true human/electric vehicle, the rider can assist the motor by "carving" -- the fluid skiing-like motion that actually generates energy to propel the vehicle forward. This full body exercise option is also a fun way to get a skier's workout while dramatically improving the battery's range. Simpson added, "I'm not the kind of guy who would ride a bike to work, but I ride the Pon-e because it's fun. It's my 'gym time.' I look forward to it." Gildo Beleski, Trikke Tech's supervising designer and the designer of the Pon-e stated that he actually lives too close to work, so he goes on carving tours every day on the way to and from work - lengthening his commute. This also gave him an excellent daily opportunity to thoroughly refine the product. "I am very satisfied with the Pon-e," says Beleski, "It is definitely ready for the rest of the world to enjoy."
About Trikke Tech, Inc.
Trikke Tech, Inc. is the world leader in 3-point carving vehicles for recreation, exercise, and commercial and personal transportation. In business since 2000, Trikke Tech has sold hundreds of thousands of vehicles with its patented cambering technology to enthusiasts worldwide. The product line includes the new Tribred electric vehicles, human powered vehicles and the Skki - a downhill snow vehicle. Trikke Tech is based in Santa Barbara County, California. Visit http://www.trikke.com.
###