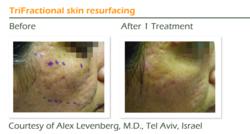 TriLipo MED treatment provides exceptional anti-aging results. This procedure is ideal for my patients who want to have younger-looking skin without surgery or injections.
A. Levenberg, M.D.
Tel-Aviv, Israel. (PRWEB) October 10, 2011
Pollogen Ltd., a leader in medical aesthetics, announced today the global launch of its latest innovation- the TriLipo MED procedure. A unique to the market procedure, the TriLipo MED allows aesthetic practitioners to safely and effectively treat all four skin layers- the epidermis, dermis, hypodermis and muscle. The TriLipo MED anti-aging procedure is carried out using a single device, the Maximus system, which contains three advanced proprietary technologies- TriLipo Radiofrequency (RF), TriLipo Dynamic Muscle Activation (DMA) and TriFractional. Each technology can be used as a standalone solution or combined with another technology to deliver superior anti-aging results. Never before has a single system offered the ability to treat four layers of skin. This exceptional treatment flexibility makes the Maximus one of the most exciting and cost effective product in the aesthetic markets.
The TriLipo MED procedure allows practitioners to treat a wide range of aesthetic conditions. Clinical results have show dramatic facial rejuvenation results that include skin tightening, wrinkle reduction and acne scar improvement. When treating the body, the TriLipo MED effectively reduces body circumference and cellulite as well as tightens the skin. A key benefit of the TriLipo MED procedure is its ability to treat delicate areas such as the décolleté, neck and hands.
The Maximus system was designed to answer the growing demand of the aesthetic market for a single platform that contains multiple technologies and applications. The Maximus system delivers three advanced proprietary technologies – TriLipo Radio frequency (RF), Dynamic Muscle Activation (DMA) and includes four applicators of various sizes for treatment of face and body. Practitioners can for the first time manipulate the depth, power and duration of treatment on each tissue level. This flexibility allows practitioners to tailor the treatment to the exact needs of the patient and deliver unprecedented anti-aging results.
Results are visible after the very first treatment and additional treatments enhance and maintain the superior anti-aging results. The TriLipo MED procedure is quick and effective "walk-in walk-out" lunchtime procedure after which patients can immediately return to their daily lifestyle.
Dr. Alex Levenberg, a leading plastic surgeon, commented on the TriLipo MED procedure, "Based on my experience with Pollogen's Maximus system, the TriLipo MED treatment provides exceptional anti-aging results. This procedure is ideal for my patients who want to have younger-looking skin without surgery or injections. I also use this procedure on patients who have recently had liposuction and neck lift surgeries, as it provides fast relief of swelling and edema and offers excellent skin tightening."
Pollogen's CEO, Mr. Amichai Bar-Nir, stated, "Following clinical testing, we are proud to introduce this unique anti-aging procedure – TriLipo MED. Our Pollogen skin experts recognized that it was time to utilize a combination of our advanced proprietary technologies to create the most complete skin rejuvenation and body contouring treatment and make it easy for aesthetic professionals to perform. The results we have seen from this procedure have been very impressive and I look forward to the buzz I am confident it will create. This proves yet again that Pollogen has succeeded in creating one all-encompassing platform for aesthetics professionals – Maximus answers physicians' needs for remarkable anti-aging treatments."
About Pollogen
Pollogen Ltd. Is a global leader in the medical aesthetic market providing innovative, safe and effective solutions for women and men that enhance and expand the practice of medical aesthetic professionals. The company offers products to address a range of skin treatments under the industry's three premier brands: TriPollar®, TriLipo® and TriFractional™.
Pollogen offers a full line of clinically-proven, non-invasive anti-aging facial and body contouring treatment platforms for circumference reduction, cellulite reduction and skin tightening. The company's medical aesthetic devices, Maximus, apollo, and regen XL offer customers clinically-proven, safe and effective anti-aging lunchtime beauty treatments that deliver immediate and long-lasting results, With a distribution network in over 60 countries, Pollogen is providing innovative solutions to medical professionals globally.
###