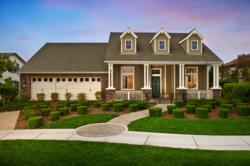 At Trilogy, we build with the next generation in mind, believing that everyone, including ourselves, has a responsibility to protect the environment and to leave a healthy planet for generations to come.
Nipomo, Calif. (PRWEB) December 02, 2011
Trilogy at Monarch Dunes by Shea Homes is announcing today that it is one of six local winners recognized with a Green Award from The San Luis Obispo Chamber of Commerce this year. The San Luis Obispo Chamber annually recognizes businesses, organizations and individuals that "reduce pollution, improve resource conservation and sustainability and improve air and water quality" with its Green Awards.
Trilogy at Monarch Dunes was recognized because of its Shea Green Certified® Homes Program that combines the most critical and cost-effective standards for green residential building set by LEED, the National Association of Home Builders and Environments for Living. This program allows homes at Trilogy to deliver an average of 59 percent savings in overall energy use compared to older homes. Trilogy incorporates photo-voltaic solar panel systems and many other green building features, which have reduced the carbon footprint of new Trilogy homes by up to 48 percent per household. This means that for every year homeowners live in their home,; they will reduce their carbon dioxide emissions by 8,388 pounds over those that live in conventional, non-green certified homes. This equates to saving 1.3 tons of waste from being sent to the landfill.
Shea Green Certified homes include Environments for Living (EFL) Gold Certification that includes an energy usage and comfort guarantee, roof-top solar power systems, solar-powered attic fans, Energy Star® high performance Jenn-Air® appliances, electric vehicle charging stations, blown-in recycled cellulose insulation and Andersen® Silverline® dual pane low-e vinyl windows. Shea also cuts overall water usage by including innovative features like WeatherTRAK®, a satellite-controlled irrigation system and low-flow faucets. With these features, the builder helps to conserve a precious natural resource and reduce urban runoff that pollutes wildlife habitats. The satellite system alone saves the community 67.5 million gallons of water over the life of the homes.
In an effort to improve the air quality within Trilogy homes, homeowners receive a fresh air ventilation system, Merv 8 air filters, carbon monoxide detectors and low VOC washable paint. All of the homes have an energy use guarantee and are tested by a third party for air tightness and the efficiency of the HVAC system, examining the ducts and room temperatures.
Trilogy homes also include wood from sustainable forests, and the builder employs Optimum Value Engineering while framing the homes. As a result, these homes use 10-15 percent less wood, saving 5.5 trees per home. This is equivalent to 137 trees saved over the life of the homes that were purchased this year alone.
"We are honored at Trilogy at Monarch Dunes to be recognized for our green building practices," said Preston Holdner, General Manager at Shea Homes. "At Trilogy, we build with the next generation in mind, believing that everyone, including ourselves, has a responsibility to protect the environment and to leave a healthy planet for generations to come. We encourage our trade partners and people we do business with to be equally green in their respective spaces. With our energy-saving homes, homeowners can live a greener, more sustainable life, while saving money."
ABOUT TRILOGY AT MONARCH DUNES
Trilogy at Monarch Dunes is a community for all ages with new homes for sale. Surrounded by eucalyptus groves, just 15 minutes from Pismo Beach and situated amidst the award-winning Monarch Dunes Golf Course and the newly opened 12-hole Challenge Course. It offers the only all-inclusive resort on the Central Coast, The Monarch Club.
ABOUT TRILOGY BY SHEA HOMES ACTIVE LIFESTYLE COMMUNITIES
Trilogy communities are high-end resort communities offering a new choice in living to those looking for an exciting lifestyle that revolves around wellness, exploration, continued learning and close personal connections. Architecturally superior new home design and resort amenities reflect the changing needs of the baby boom generation, including business services, world-class clubs, state-of-the-art fitness facilities and a diverse range of recreation and education opportunities. Trilogy is committed to addressing boomers' growing concern about the environment and energy usage, and now offers Shea Green Certified® homes across its portfolio, while reducing each home owners energy costs by up to 71 percent. More information is available by visiting http://www.TrilogyLife.com or calling (800) 685-6494.
# # #