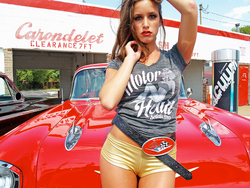 What's most unique to the TRIM brand is that every item we design is customized with vintage automotive fabric and upholstery
St. Louis, MO (PRWEB) August 12, 2009
Tucked away in America's heartland, surrounded by farm fields and miles of open highway, lies Sedalia, Missouri. Best known for hosting the state fair, Sedalia also is home to a speed shop that has left an indelible mark on racing and hot rod culture. That speed shop started in 1964, from the humble beginnings of a young boy wrenching and painting a wrecked Corvette in the garage of his parents' home. That speed shop is Smith Racing.
The shop's founder, Steve Smith, had motoring in his blood since the time he could see over a dashboard. He has built drag cars, street rods, and fire breathing tractors from the ground up. He does custom fabrication, pin striping, detailed body work and is an innovator in the Sprint Car Scene.
Forty-five years later, Steve Smith is still passionate about racing. What's more, the next generation of Smiths has followed a similar path and broken new ground with a fresh group of like-minded motorheads. Drawn by a love for all things fast and loud, they launched TRIM - the clothing brand for those who Keep Fast Company.
This new generation and new clothing line embody the motoring lifestyle and are a direct connection to high-octane excitement on and off the track. In the same spirit that drove Steve to handcraft his revolutionary parts from raw stock, this young crew celebrates Smith Racings' history through the innovative, inspired and adrenaline-fueled clothing line, TRIM.
TRIM is inspired by the elegant, unique and often overlooked components of Detroit muscle. Using vintage upholstery, color palette, design, chrome and the fundamentally fast and loud nature of car culture, TRIM brings this aesthetic to custom clothing. Inspiration can be seen in every detail of this varied collection which features the use of colors like Matador Red with Tuxedo Black contrast stitching, both classic Chevy colors.
"What's most unique to the TRIM brand is that every item we design is customized with vintage automotive fabric and upholstery," says Charlie Smith, son of Steve. Heir to the Smith Shop legacy and TRIM co-owner, Smith is passionate about authenticity. "Our vintage materials are amazing and make for great accents on apparel." The TRIM collection launches with three lines, 32, 57 and 69, each representing the cars used as inspiration: a '32 Ford, a '57 Chevy and a '69 Camaro. The high-octane collection includes t-shirts featuring pin-up girls with 427 motor "heads", hand-fabricated belt buckles, rough-cut denim blazers, hoodies, moto jackets, shop shirts and more.
"We want to grow the brand slowly and make sure everything we produce reflects quality, craftsmanship and a reverence for Detroit horsepower. We want people to love the brand as much as we do," says co-owner Jon Maurice. "In further homage to the all-American hot rod, TRIM is dedicated to designing, sourcing and manufacturing in the U.S."
TRIM is currently selling into retail at better men's boutiques including the race-inspired icon Glory in Los Angeles. TRIM also has a robust online shopping experience at TRIMindustries.com and will be showcased at fashion weeks and special events across the country.
When Smith and Maurice aren't busy designing the line, sourcing vintage automotive fabric, or cruising in Jon's '64 Impala, they cheer for and sponsor some of the hottest young drivers today including the white hot Jonathan Cornell Sprint Car. TRIM also sponsors Richard Rawlings, #1 road rally racer and total maniac, who raced to victory in both the Gumball 3000 and Bullrun 2009.
For more information, please visit http://www.trimindustries.com. For sales, press and sample inquiries contact Jon Maurice.
###