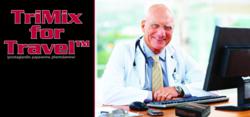 With TriMix for Travel™ NO MORE ICE PACKS
Pensacola, FL (PRWEB) May 09, 2011
American Pharmacy will take this opportunity to introduce their new product called "TriMix for Travel™ to urologists attending the Conference. TriMix for Travel™ is a new non-refrigerated alternative for the erectile dysfunction (ED) treatment known as trimix for injection or just trimix.
Trimix for injection is a liquid form of medicine which requires refrigeration. Active patients find this cumbersome and inconvenient because they need to carry their medicine in ice packs whenever leaving home such as on vacation or nights on the town.
This new formulation does not require refrigeration. American Pharmacy can compound TriMix for Travel™ in the exact dosage strengths patients are presently prescribed. All they do is mail their prescriptions to American Pharmacy or have their doctors use this form (http://americanpharmacysolutions.com/pdf/Letter-to-Doctor-for-Traveling-TriMix.pdf) to phone in the prescriptions at 877-729-1015 or fax them to 877-729-1019.
Darian Chandler, COO at American Pharmacy says "Initial feedback from patients has been overwhelming. With TriMix for Travel™ NO MORE ICE PACKS". Anyone interested in learning more about TriMix for Travel™ can visit http://www.AmericanPharmacySolutions.com .
American Pharmacy Solutions, LLC, is a full service compounding pharmacy specializing in treatment solutions for urological practices. New products include a new non-refrigerated trimix called TriMix for Travel™, the original TriMix-gel®, and a new treatment option for female sexual arousal disorder (FSAD).
Contact: Darian Chandler
877-729-1015
American Pharmacy Solutions
5001 Commerce Park Circle
Pensacola, FL 32505
The information contained herein is general in nature and is intended for use only as an informational aid. It does not cover all possible uses, actions, precautions, side effects, or interactions of the products shown, nor is the information intended as medical advice or diagnosis for individual health problems. TriMix for Travel™ and TriMix-gel® have not been evaluated by the Food and Drug Administration ("FDA"). TriMix for Travel™ and TriMix-gel® are not made under GMP requirements. They are compounded in a licensed compounding pharmacy for the use of an individual patient who has been prescribed TriMix for Travel™ and TriMix-gel® by a licensed physician. It is not intended for making an evaluation as to the risks and benefits. Before taking any action, consult your Doctor.
# # #