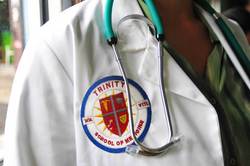 "In current times of extremely tight credit, especially as it relates to student loans, we realize the institutional importance of providing this financial aid program to our students." Steve Wilson, President, Trinity School of Medicine
Alpharetta, GA (PRWEB) February 5, 2010
Trinity School of Medicine announces improvements to its current student loan program. The new arrangement offers advantages including term fund disbursements and a more secure and larger funding pool for current and future students.
"In current times of extremely tight credit, especially as it relates to student loans, we realize the importance of providing this financial aid program to our students", remarked Steve Wilson, president of Trinity School of Medicine. "For many students, this program will be the determining factor that enables them to fulfill their educational goals and obtain their Doctor of Medicine (MD) degree."
Trinity School of Medicine developed its private student loan program to address the financial needs of incoming US students. The program is available to students who do not have the ability to obtain financial support through traditional programs offered by US financial institutions. The loans are a variable rate instrument and rates are based on the Wall Street Journal index of Prime plus 6%. The rate is considered competitive for a private student loan program based on the current US banking industry.
For information on terms, credit qualifications and other financial aid information please visit the Financial Information Page on http://www.trinityschoolofmedicine.org.
Trinity School of was Medicine was founded in 2008 in response to the scarcity of seats available in Medical schools in the US and Canada, and as a way to combat the current physician shortage. Trinity offers a new path to opportunity for prospective physicians who thrive in an environment of small classes, low student to faculty ratios, and clinical experience that begins in the first term. With curriculum, training and standards modeled on North American medical schools, Trinity is accredited—meeting all U.S. requirements and international licensing—preparing students to sit for USMLE Step 1, 2 and 3 examinations as well as to be certified for participation in the National Residency Match Program (NRMP). Trinity School of Medicine is located on the island of St. Vincent in the Eastern Caribbean with U.S. headquarters in Alpharetta, GA, US.
###