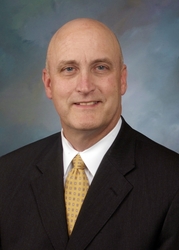 Carter will become CFO of Trinity Health, the fourth largest Catholic health system in the country.
Novi, MI (Vocus) February 11, 2010
Trinity Health today announced that Benjamin R. Carter, CPA, FHFMA, has been appointed as the new Senior Vice President and Chief Financial Officer. He will join the organization on March 1.
Carter will lead the financial management, financial reporting, strategic financial and capital planning and budget development of Trinity Health, the fourth-largest Catholic health system in the country with 44 hospitals, 33 long-term care centers and hundreds of outpatient facilities in eight states. He will also provide leadership to revenue management initiatives and reimbursement programs.
Carter comes to Trinity Health from the Detroit Medical Center, where since 2005 he was executive vice president and chief operating officer responsible for the operations of the system's eight hospitals and related outpatient facilities. His distinguished career spans 20 years in executive-level positions at Oakwood Healthcare in Dearborn, Mich., including six years as its CFO from 1999-2005.
He is a graduate of the University of Michigan where he graduated magna cum laude with an MBA and bachelor's degree in business administration.
About Trinity Health
Trinity Health is the fourth-largest Catholic health care system in the country. Based in Novi, Mich., Trinity Health operates 44 acute-care hospitals, 379 outpatient facilities, 33 long-term care facilities, and numerous home health offices and hospice programs in eight states. Employing 45,800 full-time staff, Trinity Health reported $7.0 billion in unrestricted revenue in fiscal year 2009. As a not-for-profit health system, Trinity Health reinvests its profits back into the community through programs to serve the poor and uninsured, manage chronic conditions like diabetes, health education and promotion initiatives, and outreach for the elderly. In Fiscal Year 2009, this included nearly $400 million in such community benefits.
In Michigan, Trinity Health is a leading health care provider and one of the state's largest employers, providing the full continuum with 11 hospitals, nine nursing homes, 19 senior housing facilities, eight home health care agencies and four hospices serving 35 counties.
For more information about Trinity Health, visit http://www.trinity-health.org or become a fan of the Trinity Health Facebook page at http://tinyurl.com/ylpm3np.
For more information, contact:
Kevin DiCola, Manager
Corporate Communications and Public Relations
248.489.6032 (office)
734.218.1571 (cell)
###