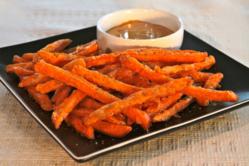 "The sweet potato fry will be our signature product and we're pleased that we'll soon be helping retailers and restaurateurs alike, serve up plenty of these sweet sensations"! Jere Null, CEO of Trinity Frozen Foods
Charlotte, NC (PRWEB) January 16, 2013
Trinity Frozen Foods LLC, with management offices Charlotte, NC has closed on its first round of equity financing which it will use to construct a sweet potato processing facility in the southeast in 2013. The Company is evaluating sites throughout the Carolinas for its plant, which will be the closest such facility to the major growing regions in North Carolina. "We're very excited about the opportunity to serve not only the Carolina growers but also those from around the southeast with a high-tech processing facility", states company spokesman and CFO, Chip Wilson. "Presently, most raw sweet potatoes from this region are shipped several hundreds of miles to Arkansas, Louisiana or even Quebec to be processed", says Wilson. At full production, the plant is projected to employ over 150. Several sites under consideration are located in economically depressed areas within both North and South Carolina.
"North Carolina is immensely proud of its agricultural roots and our role as the nation's leading grower of sweet potatoes. We are especially excited about prospect of welcoming Trinity Frozen Foods to the Carolinas, and are confident that our rich agricultural history, motivated workforce and welcoming business environment will usher in an era of new growth in our great agribusiness economy. I want to thank everyone involved in this process, especially Rep. Craig Horn, who is working hard to bring this company and their jobs to North Carolina." - House Speaker Thom Tillis (R-Mecklenburg).
The North Carolina Sweet Potato Commission Foundation notes that since 1971, North Carolina has ranked as the No. 1 sweet potato producing state in the U.S. It's warm, moist climate and rich, fertile soil are ideal for cultivating sweet potatoes, averaging nearly 50% of the total U.S. supply. According to the USDA, North Carolina harvested nearly 50,000 acres of sweet potatoes in 2010, the same amount farmed by California, Louisiana and Mississippi combined. In the same year, approximately 2 billion pounds of sweet potatoes and sweet potato products were consumed in the US.
Jere Null, President of Trinity, notes that the consumption of sweet potatoes in the U.S. is rising rapidly. "Thanks in part to the sweet potato fry, which has become a mainstream trend in the foodservice arena, production has increased for five consecutive years and the demand is expected to trend upward". People want and enjoy a variety of great tasting foods that are also healthy", states Null.
The sweet potato is one of the oldest known cultivated foods in the Americas, going back over 9,000 years, and is packed with vitamins, minerals and fiber. Its sweet flavor satisfies the palette and curbs the appetite longer by stabilizing blood sugar levels. Sweet Potatoes are rich in antioxidants and have anti-inflammatory properties. Their nutritional value has earned them the title of "Super Food" by the American Heart Association and the American Diabetes Association. An average sweet potato contains more than 300% of the RDA of vitamin A, significant quantities of vitamins C, E, B5, B6 and an average of only 90 calories per 100 gram serving. They also have a low glycemic index. Independent research shows they remain healthy when converted to fries, retaining 70% of their nutritional value.
Trinity Frozen Foods expects to offer a wide variety of sweet potato products to meet the increasing demands of the foodservice market, however, says Null, "the sweet potato fry will be our signature product and we're pleased that we'll soon be helping retailers and restaurateurs alike, serve up plenty of these sweet sensations"!
Visit http://trinityfrozenfoods.com
Contact: Chip Wilson, Trinity Frozen Foods
(855) 543-7437 chip(at)trinityfrozenfoods(dot)com