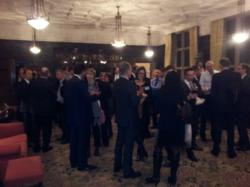 Cadency: It all adds up to more confidence and trust in the process. The risks are understood, there is transparency at every level of the process and there is more control. - Paul Byrne, Trintech CEO
London, UK / Dublin, Ireland / Dallas, TX (PRWEB) December 11, 2012
Before a wide range of top European companies, industry experts from KPMG, E&Y, The Hackett Group, and CapGemini discussed new approaches to the Report-to-Record (R2R) at the launch of Cadency in London last week – the industry's first, end-to-end solution to automate and reinvent the entire Record-to-Report process.
Moderated by Gary Simon, managing editor of Financial Systems News (FSN), the expert panel confirmed the benefits of talking a holistic approach to the R2R process rather than investing in '"point solutions" and spreadsheets.
"The lack of transparency and visibility in the R2R process significantly hinders a finance executive's ability to respond proactively to an ever-changing economic and regulatory environment," says Ken Fritz, EVP Trintech.
Teus Verbree, Director EPM Solutions, of the global strategic business advisory and operations improvement consulting firm, The Hackett Group, added, "What we see is that most companies have components of an EPM (Enterprise Performance Management) system in place, the next wave is optimization and control of the workflow in this area! There is a strong correlation between trust and risk. If companies trust the numbers and understand them, they can spend more time on analysis of the business."
In attendance were many of Europe's industry-leading finance professionals and Trintech clients learning about Cadency, the world's only end-to-end financial governance solution that manages the entire Record-to-Report process in a single product.
"The CFO should have visibility of the whole R2R process and be able to manage it in one place – like a conductor," says Paul Byrne, Trintech CEO. "That's why we have re-invented the R2R process. Unlike the 'point-solutions' and fragmented solutions of the past, Cadency provides one console from which senior financial executives gain real-time transparency and visibility into all R2R processes, risk and workflow checkpoints, and we are the first to provide such an innovative solution."
About Trintech:
Cadency is a product of Trintech, the leading provider of financial governance solutions for the Record-to-Report process. More than 650 clients in 41 countries rely on Trintech including 50% of the Fortune 50 and 25% of the Fortune 500, and 100,000 financial users. Trintech offices are located in the United States, the United Kingdom, The Netherlands, France, and Ireland, with partners in South Africa, Latin America and across the Asia Pacific region.
For more information on how Cadency can help you orchestrate your Rhythm of Finance, please contact us online at http://www.trintech.com.