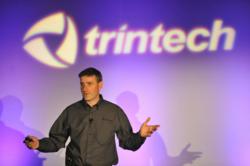 Cadency helps companies to finally optimize their Last Mile of Finance, minimizing the risk, resource needs and costs associated with the entire record-to-report cycle
London, UK / Dallas, TX / Dublin, Ireland (PRWEB) January 15, 2013
Trintech, a leading global provider of integrated software solutions for the Last Mile of Finance, has announced that it has achieved the distinction of being named "Software Vendor to Watch in 2013" in the category of Financial Governance by Financial Systems News (FSN) for its highly acclaimed Cadency™ product.
"One of the most exciting developments of the year was Trintech's launch of Cadency," said Gary Simon, managing editor of FSN. "It's an ambitious and visionary solution which aims to overturn the status quo in financial reporting by exerting complete governance over the end-to-end reporting process."
Launched in November 2012, Cadency is the world's only financial governance solution that manages the entire Record-to-Report process in a single product for the Office of Finance. Despite continuous investment in the Record-to-Report process, 68% of CFOs say that they have inadequate visibility into reporting and 88% say they have experienced delays in the last 12 months when executing financial close, reporting and filings.
Cadency is focused squarely on solving the risk, resource and cost challenges associated with this "Last Mile of Finance." It establishes a repeatable rhythm across the Record-to-Report cycle, allowing Senior Financial executives to orchestrate all stakeholders and streamline all process activities for the entire cycle, while measuring and managing the risk profile within the financial governance model for the first time.
"Cadency helps companies to finally optimize their Last Mile of Finance, minimizing the risk, resource needs and costs associated with the entire record-to-report cycle," said Paul Byrne, CEO of Trintech. "We are proud to be recognized by FSN for our leadership role in the area of Financial Governance Software."
About FSN:
FSN (Financial Systems News) provides finance professionals around the globe with independent news, vital analysis and deep insight about key developments in the world of business and accounting systems. FSN debunks the technical jargon of the IT world and present leading-edge issues in a way that is accessible and relevant to business decision makers. With more than 1.5 million page impressions per year, and more than 50,000 visitors per month, FSN is a major influence in the business systems market and the largest business of its kind in Europe. http://www.fsn.co.uk.
About Trintech:
Cadency is a product of Trintech, the leading provider of financial solutions for the Last Mile of Finance. More than 650 clients in 41 countries rely on Trintech including 50% of the Fortune 50 and 25% of the Fortune 500, and 100,000 financial users. Trintech offices are located in the United States, the United Kingdom, The Netherlands, France, and Ireland, with partners in South Africa, Latin America and across the Asia Pacific region. For more information on how Cadency can help you orchestrate your Rhythm of Finance, please contact us online at http://www.trintech.com.
1 "The Challenges of Corporate Financial Reporting," Oracle Accenture, May 2012.