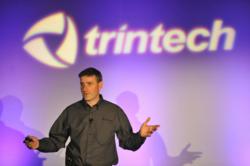 Trintech aims to provide local support for its global customers. With more than 100,000 users in over 50 countries completing millions of transactions daily using Trintech solutions, it is imperative that we remain in step with our customers
London, UK / Dallas, TX (PRWEB) November 15, 2011
Trintech, a leading global provider of integrated software solutions for the Last Mile of Finance, announced the opening of its newest office in Paris, France. Trintech continues to accelerate its global expansion plans in order to service its growing number of international customers and the increasing demand for Trintech's integrated global solutions.
With two offices in the United States, four in Europe and an established global partnership network encompassing Eastern Europe, South Africa, Middle East, Australia and Asia Pacific, Trintech continues to expand its resources to service clients on a global basis. This reach enables Trintech to deliver world-class customer satisfaction whilst delivering accurate, trusted and timely data for clients.
"To continue to deliver world-class services to a growing number of global customers with operations centered in Europe we have accelerated our plans and opened a fourth European office. We selected Paris due to the large number of existing customers located in France and the penetration of Global businesses with European Headquarters in Paris." Said Paul Byrne, Trintech CEO. "In addition to the new office in Paris, Trintech has also relocated its Dutch office to Amsterdam to be closer to our clients' operations." Byrne continues, "Trintech aims to provide local support for its global customers. With more than 100,000 users in over 50 countries completing millions of transactions daily using Trintech solutions, it is imperative that we remain in step with our customers."
About Trintech:
Trintech is the leading global provider of integrated software solutions for the Last Mile of Finance. From the time a transaction occurs to the time financial statements are issued, Trintech's innovative Unity Suite automates data collection, account reconciliation, financial close management, financial reporting, XBRL, and financial control testing. As a result, our 650 clients and 100,000 users worldwide benefit from an enterprise wide view into critical financial processes, and are able to increase efficiency, improve visibility, shorten cycle times, lower costs, and reduce risk.
More than 100,000 finance professionals in 41 countries rely on Trintech. Trintech clients include 50% of the Fortune 50 and nearly 25% of the Fortune 500 representing retailers, manufacturers, financial institutions and healthcare providers globally. Clients who have placed their trust in Trintech include Google, Microsoft, RR Donnelley, Regis Corporation, Walmart, O2, Blackstone, BAE Systems, HSBC and Toyota Financial Services. To better serve our global client base, Trintech offices are located in the United States, the United Kingdom, The Netherlands, France and Ireland, with partners in South Africa, Latin America and across the Asia Pacific region. For more information on how Trintech can help you transform your Last Mile of Finance, please contact us online at http://www.trintech.com.
Follow Trintech on Twitter: @TrintechInc - Like Trintech on Facebook: TrintechInc
###