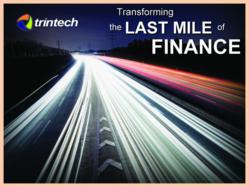 Our business partners demand accurate, reliable, on-time financial reporting to support critical business decisions, particularly in difficult economic climates. - George Connell, VP for Strategy in Finance Operations, Shell FSSC
Dallas, TX / London, UK (PRWEB) January 12, 2012
Trintech, a leading global provider of integrated software solutions for The Last Mile of Finance, has been invited to present "Best Practice Strategies for Automation, Collaboration and Trust'" in automating reconciliations at the 8th CIMA (Chartered Institute of Management Accountants) and Loughborough University's Shared Services Forum being hosted at Shell's award winning FSSC (Financial Shared Service Centres) in Glasgow, Scotland on 9th February.
The objective of the forum is to bring together senior leaders in the field of FSSCs in an informative and educational manner to examine the common challenges faced by these leaders, and to highlight methods they are using to become more effective in supporting the organisation, whilst gaining efficiencies across the finance function.
FSSCs are transforming and delivering an ever expanding range of services. They have become collaborative in nature and are now recognised as a key business partner. Trintech is looking forward to adding to the CIMA and Loughborough University debate with our discussion on "Automation, Collaboration and Trust."
Ian Herbert, Senior Lecturer in Accounting and Financial Management, Loughborough University Business School said, "We work closely with CIMA and their members to identify key topics of interest with both an academic and business focus. The Forums provide an open platform for discussion, peer to peer, and the resulting papers are available to CIMA and Forum members to digest and discuss."
George Connell, VP for Strategy in Finance Operations based at the Shell FSSC in Glasgow added, "It is only due to our willingness to share best practice ideas that we can optimise the work being undertaken across Shell's five finance shared service centres. Our business partners demand accurate, reliable, on-time financial reporting to support critical business decisions, particularly in difficult economic climates. Good people, optimised processes and a variety of technologies make this happen. Joining CIMA, Loughborough University and forum members to continue to debate financial service delivery is something I look forward to."
About Trintech:
Trintech is the leading global provider of integrated software solutions for the Last Mile of Finance. From the time a transaction occurs to the time financial statements are issued, Trintech's innovative Unity Suite automates data collection, account reconciliation, financial close management, financial reporting, XBRL, and financial control testing. As a result, our 600 clients and 100,000 users worldwide benefit from an enterprise wide view into critical financial processes, and are able to increase efficiency, improve visibility, shorten cycle times, lower costs, and reduce risk.
More than 100,000 finance professionals in 41 countries rely on Trintech. Trintech clients include 50% of the Fortune 50 and nearly 25% of the Fortune 500 representing retailers, manufacturers, financial institutions and healthcare providers globally. Clients who have placed their trust in Trintech include Google, Microsoft, RR Donnelley, Regis Corporation, Walmart, O2, Blackstone, BAE Systems, HSBC and Toyota Financial Services. To better serve our global client base, Trintech offices are located in the United States, the United Kingdom, The Netherlands, France and Ireland, with partners in South Africa, Latin America and across the Asia Pacific region. For more information on how Trintech can help you transform your Last Mile of Finance, please contact us online at http://www.trintech.com.
Connect with us on Facebook, Twitter and LinkedIn to learn more about Trintech.
# # #