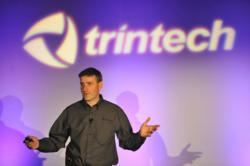 Trintech's Customer Conference and Executive Circle is a unique venue, giving our clients valuable one-on-one time with these industry experts and top performing financial professionals...
Dallas, TX / London, UK (PRWEB) May 07, 2012
Trintech, a leading provider of integrated Record-to-Report solutions for global enterprises, announced their 16th Annual Customer Conference and Executive Circle May 14th through 16th at the Sandestin Golf and Beach Resort in Sandestin, Florida.
"We're excited to have experts such as Bill Marchionni from The Hackett Group and Anne Bothwell who leads KPMG's Finance Governance group, joining Trintech clients and partners Accenture, Intel, Marriott, Overstock.com, Limited Brands, Dr. Pepper Snapple and others in addressing Report-to-Record trends and sustainable growth best practices," says Paul Byrne, Trintech CEO.
"Trintech's Customer Conference and Executive Circle is a unique venue, giving our clients valuable one-on-one time with these industry experts and top performing financial professionals from leaders such as Calpine, AutoZone, Texas Roadhouse, Western & Southern, Valero, and Torchmark," notes Byrne. "In addition, we've added five exciting, new best-practices tracks – including a new track specifically for IT – on reconciliation workflow, financial close, and compliance."
Current State of the Office of Finance
"The Hackett Group is pleased to support Trintech's clients by addressing the current state of the Office of Finance," says Bill Marchionni, Finance Operations Advisory Global Practice Leader for The Hackett Group. "As a leader in benchmarking, we track more than 1,500 best practices across nearly 100 business processes, and our findings offer tremendous insight. For example, we have found that many typical finance organizations spend as much as 2/3rd of their time on low-value activities vs. leading companies who spend 1/3 of their time on these activities. We look forward to sharing our insights into how leading companies are improving efficiency across the Report-to-Record cycle."
"Maintaining sustainable growth in today's market turbulence is a challenge for Finance," says Anne Bothwell, Principal for KPMG " We have seen that enabling technology can assist with improving process and increasing efficiency in the Finance area. We are excited to share KPMG's knowledge with Executive Circle attendees on how to better prepare for the future of Finance."
2012 User Conference
In addition to attendees earning up to 11.5 Continuing Professional Education (CPE) credits, the Trintech 2012 Customer Conference features 18 new courses spread through five tracks – including the addition of a new Information Technology (IT) Track. ReconNET, AssureNET, and Close users will have 36 sessions to choose from with topics ranging from creating a paperless financial close process to leveraging reconciliation automation for additional ROI. Additionally, there will be extensive networking opportunities with peers, product support, demonstration labs, focus group meetings, and one-on-one consultations with product experts.
Executive Circle
Trintech will also host an Executive Circle on May 15 focused on "Benchmarking for Sustainable Growth." This invitation-only venue promises to be a "must attend" event as KPMG, Accenture, Deloitte and The Hackett Group participate in round-table discussions with Dr. Pepper Snapple, Intel, Marriott, and others regarding sustaining growth through optimizing the Last Mile of Finance. Executive Circle attendees are eligible for up to six CPE Credits.
Event Registration
Clients can register for the 2012 Trintech Customer Conference HERE. Registration is exclusively for Trintech clients, with limited availability remaining. Fore more information on the Trintech Conference and earning CPE credits, please contact Hilliary Opseth, Sr. Marketing Manager at hilliary(dot)opseth(at)trintech(dot)com.
About Trintech
Trintech, Inc. is registered with the National Association of State Boards of Accountancy (NASBA) as a sponsor of continuing professional education on the National Registry of CPE Sponsors. State boards of accountancy have final authority on the acceptance of individual courses for CPE credit. Complaints regarding registered sponsors may be addressed to the National Registry of CPE Sponsors, 150 Fourth Avenue North, Suite 700, Nashville, TN, 37219-2417. Web site: http://www.nasba.org.
Trintech is a leading global provider of financial governance solutions for the Last Mile of Finance. More than 650 clients in 41 countries rely on Trintech for Record-to-Report solutions including 50% of the Fortune 50. Trintech offices are located in the United States, the United Kingdom, The Netherlands, France, and Ireland, with partners in South Africa, Latin America and across the Asia Pacific region. For more information on how Trintech can help you please contact us online at http://www.trintech.com.