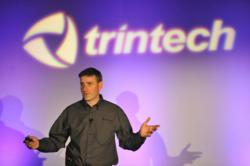 CFIT is recognized globally as a leader and advocate for process automation in finance
Dallas, TX / London, UK (PRWEB) May 30, 2012
Trintech, a leading provider of integrated Record-to-Report solutions for global enterprises, announced today that Trintech will be hosting the Financial Executives International's Committee on Finance and Informational Technology (FEI CFIT) on May 31st and June 1st at their corporate offices in Addison, TX.
FEI's Committee on Finance & IT addresses the needs and interests of financial executives as strategic leaders, as they strive to realize measurable and sustainable performance improvements while maintaining financial control. Develops information technology related programs and services targeted to meet the strategic needs of FEI members. When deemed appropriate, CFIT may communicate positions to government agencies, legislators and professional and business organizations.
"We are extremely honored to be hosting and participating in this important event," said Paul Byrne, Trintech CEO. "CFIT is recognized globally as a leader and advocate for process automation in finance, with a strong bench of forward looking finance and accounting executives, and an exceptional advisory panel including representatives from Gartner Inc., PwC and XBRL International."
About FEI
Financial Executives International is the leading advocate for the views of corporate financial management. Its 15,000 members hold policy-making positions as chief financial officers, treasurers and controllers at companies from every major industry. FEI enhances member professional development through peer networking, career management services, conferences, teleconferences and publications. Members participate in the activities of 86 chapters, 74 in the U.S., 11 in Canada and 1 in Japan. FEI is headquartered in Morristown, NJ, with additional offices in Washington, D.C. and Toronto. Visit http://www.financialexecutives.org for more information.
About Trintech
Trintech is a leading global provider of financial governance solutions for the Last Mile of Finance. More than 650 clients in 41 countries rely on Trintech for Record-to-Report solutions including 50% of the Fortune 50. Trintech offices are located in the United States, the United Kingdom, The Netherlands, France, and Ireland, with partners in South Africa, Latin America and across the Asia Pacific region. For more information on how Trintech can help you please contact us online at http://www.trintech.com.