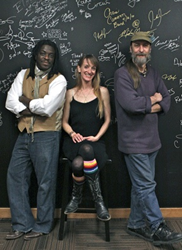 Trio of Poets releases their self titled album, "Trio of Poets," at The Burren, Wednesday, October 22nd.
Somerville, MA (PRWEB) October 07, 2014
Trio of Poets releases their self titled album, "Trio of Poets," at The Burren, Wednesday, October 22nd.
The dynamic poetry collaboration, Trio of Poets, delightfully delivers spoken word and storytelling with a country, urban, funky, hip-hop, blues and folk flair with their new self-titled album,"Trio of Poets," to be released at The Burren in Somerville, MA on October 22nd.
Wednesday, October 22nd
The Burren
247 Elm St.
Somerville, MA
7PM
Massachusetts poet Timothy Mason joins poets Jena Kirkpatrick and Regie O'Hare to form, Trio of Poets, a talented group of educators and performers. From diverse backgrounds, they have come together to bring the spoken word to life with their new album. Their tour has been featured at Second Street Live! in Fort Smith Arkansas, The Old Songs Festival, The Austin International Poetry Festival and at workshops for schools, Boys and Girls clubs and colleges.
Regie O'Hare Gibson: Author, songwriter, educator and workshop facilitator he has performed taught and lectured at universities, theaters and various other venues in seven countries most recently Havana, Cuba. Himself, and his work appear in the New Line Cinema film "love jones" a film based on events in his life. Before leaving Chicago he was Writer in Residence at the Effie O. Ellis Center sponsored through National- Louis University and is Chernin Center for the Arts Community Writers. Regie lectures on poetry, creative writing, and communication for young adults and has been widely published in anthologies, magazines, journals, sound and electronic media. He has been a featured numerous times on NPR. His first Collection of poems "Storms Beneath the Skin" has received the Golden Pen Award.
Jena Kirkpatrick: A whirlwind of activity and creativity, conducting workshops for Badgerdog Literary Publishing and for the Boys and Girls Clubs of Central Texas, where she is publisher and editor of the poetry anthology, Writing for Positive Change. In 2009 she was featured on KOOP Radio's Writers on the Air; published in Shelf Life magazine; and is a featured poet for the 2010 EXSE Poetry Expo currently airing on public television.
Timothy Mason: A dynamic performing poet who has featured at festivals and venues throughout North America notably at The Ottawa Folk Festival where he collaborated with Grammy Award winners The Carolina Chocolate Drops, also The Austin International Poetry Festival and The Falcon Ridge Folk Festival (NY). Often collaborating with songwriters he has produced two CD's and published two books. His work has been heard on HEAT on National Public Radio.