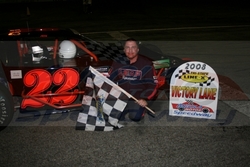 I never took my foot off the throttle, and I didn't put my other foot near the brake
New Hudson, MI (PRWEB) September 5, 2008
After Brad Springer experienced a string of engine failures using his own vehicle, Trip-G Motorsports asked the racer to drive their Trip-G.com- sponsored, Conely Engines-powered #22 modified for the remainder of the 2008 racing season. Brad is having a stellar year battling for a season championship, and Trip-G Motorsports felt that helping Brad continue his outstanding performance in the USA Modified Tour was a win-win situation.
"We are very fortunate and thankful that Brad was willing to help Trip-G Motorsports improve our performance in the Trip-G.com modified race car," said Gregg Campbell of Trip-G Motorsports. After picking up the Trip-G modified, Springer spent more than 60 hours preparing the car to his liking. He unloaded the Trip-G.com modified at Angola Motor Speedway on Saturday, August 30th, for the fast car dash and modified feature event wins. Sunday was equally rewarding as Springer started 16th in the USA Modified show at Angola. After driving his way into the top ten, Brad lost the front end of the car, spun out in turn two, and had to restart from the tail. Springer easily raced back to a 12th place finish in the 50-lap feature event.
While Brad was proving his skills in both car setup and driving, Chad Goff was breaking the track record in his Trip-G.com-sponsored, Conely Engines-powered #9 pavement sprint car. The track erupted with excitement as Goff piloted his car around the 3/8-mile track in a record time of 12.851 seconds, more than a full one-hundredth of a second better than the old track record of 12.974 seconds.
"I never took my foot off the throttle, and I didn't put my other foot near the brake," Goff said of his new record. Later, in an unfortunate turn of events, Goff's engine expired on lap 6 of the feature event, which sent him home with a did not finish. However, Trip-G was able to switch in their WESMAR-built dirt sprint engine in 24 hours to participate in the Angola Hoss sprint car race on Sunday, August 31. Arriving after hot laps were finished, the Trip-G team unloaded at Angola and qualified fifth with no practice.
The heat race gave Trip-G a 5th place finish, sending Chad to the B-Main to earn a transfer into the feature. Chad had the field covered in the B-Main, often showing the way by ¾ of a straightaway before his engine lost power for the second time that weekend. The loss of two engines in two nights is an extreme blow to a very talented, energized, and successful operation. With a little hard work, Trip-G sprint cars will return to the track next weekend.
Trip-G Motorsports continues to seek a primary sponsor for the 2009 season as the company pursues the World of Outlaws Sprint Car Series.
Backed by Trip-G Software, an innovative consumer software solutions company, Trip-G Motorsports is a division of Trip-G.com, LLC, based in New Hudson, Michigan. For more information about Trip-G Motorsports, sponsorship opportunities, or the exciting addition of Brad Springer, please contact Jay Asel, VP- Sponsor Development, at 248 497 3087. Trip-G.com Website
###