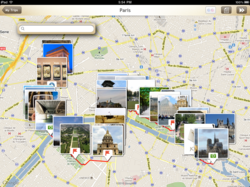 Sharing your travel experiences will never be the same again!
Cluj-Napoca, Romania (PRWEB) June 06, 2011
iQapps, the developer of award-winning travel app Trip Journal was pleased to announce the launch of their new Trip Viewer travel application for the iPad during a presentation at Mobile App World 2011. Trip Viewer gives iPad users a media-rich solution for viewing their trips (route, photos, videos, and notes) on the iPad.
With the Trip Viewer app, travelers have a rewarding way to enjoy their trip all over again and an interactive way to share their trips with friends and family. Trips are easily imported to Trip Viewer by email and iTunes, including GPX trips from any GPS app and GPS device. It's the perfect companion app for Trip Journal.
When you open a trip in Trip Viewer, you'll be able to rediscover your trip from beginning to end -- marked points of interest along your route, the memorable photos you snapped, amazing videos of events during your trip, and notes you record about a photo or place. With a push of a button, you can also enrich your trip experience with real-time, geo-location aware Flickr photos along the route.
Trip Viewer also includes a Slideshow feature that will take you through your trip waypoint by waypoint, displaying the photos and videos you recorded along the way. You can let the slideshow play or jump ahead to any point of interest on the route.
You can add as many trips as you want to Trip Viewer -- your own or trips your friends have shared with you. Sharing your travel experiences will never be the same again!
Trip Viewer is available for download now. It's FREE in the AppStore.
Watch Trip Viewer on YouTube
About Trip Journal and iQapps
Trip Journal is an award-winning travel app and the ultimate mobile companion offering the best trip tracking, recording, documenting and sharing features currently available for iPhone, Android, Symbian, Bada and Facebook. Trip Journal allows you to document vacation experiences and share them with your friends and family.
Trip Journal is a mobile app developed by iQapps, the Mobile Apps division of iQuest.. The team consists of 40 developers, user experience, testers and marketing specialists. Trip Journal was awarded The Best Android Application for Travel in Google's Android Developer Challenge in 2009 and later made its iPhone OS debut in several European Apple TV Ads in 2010. Since that time, Trip Journal has been awarded 2009 Best App Ever Awards, and 2nd place as the Best Outdoor Use App. Trip Journal was a Finalist for the Best Android Application in The Gettie Awards in 2010 and took 1st place prizes for the 'Excellence in Design' and 'Best paid for app' categories at Mobile App World 2010. They've also been named 'All Around Best App Ever' by 360|iDev and were a recent AppCircus Winner & Nominee for Mobile Premier Awards at Mobile World Congress. Trip Journal was also recently nominated for Best Travel App in the 15th Annual Webby Awards joining the ranks with fellow nominees, Kayak Mobile, TripIt, Airbnb, and Conde Naste Traveller City Guides.
The press have also given Trip Journal a thumbs up with Travel + Leisure naming it one of the Top Travel Apps of 2010, and CNN Go putting it in the class of the 10 Best Travel Apps Ever.
There are over 300,000 passionate travelers in over 100 countries on Android, iPhone, Symbian, and Bada who are tracking and sharing their travel experiences with Trip Journal.
iQapps - A Division of iQuest Group
Str. Motilor Nr. 6-8,
400001 Cluj-Napoca
Romania
http://www.iqapps.eu
http://www.crunchbase.com/company/iqapps
iQuest Headquarters
iQuest GmbH & Co. KG
Wilhelm-Leuschner Strasse 72
60329 Frankfurt am Main,
Germany
http://www.iquestint.com
# # #