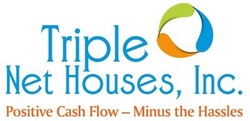 Donald Trump doesn't want to do the maintenance on his real estate investments --- and most residential investors don't either
Dayton, OH (Vocus) March 24, 2010
What's old is new: Traditionally triple net leases, which alleviate the burdens of landlord responsibilities off of the investor, have always been successfully used in commercial real estate. For the first time ever, triple net leases are now being utilized in residential real estate, luring investors from all over the country to double digit returns, says Triple Net Houses, Inc.
"Donald Trump doesn't want to do the maintenance on his real estate investments --- and most residential investors don't either," says Triple Net Houses, Inc. Director of Marketing Ernie DiMalanta. "Everyone loves the double digit return real estate investments can provide, but not everyone wants to be a landlord. We're the first company in the nation to use triple net leases to do what commercial investors have done for decades --- secure a better return on a more aggressive, yet still stable investment while eliminating the day-to-day hassles of property management."
Triple net leases are common in franchises; McDonald's Corporation and other industry giants acquire property that they lease back to their franchisees. DiMalanta points out that, like the corporate giants, Triple Net purchases, refurbishes and sells their properties to investors --- then immediately leases the homes back for 10-year periods using a triple net lease.
"We've reinvented the way people invest in residential rental real estate, but we've done it using triple net leases, a time-tested commercial real estate tool. We're helping investors leverage the glut of affordable single family homes using the triple net lease model that's been around decades. Investing in triple net lease real estate isn't new in the commercial market, but in the residential market, it's revolutionary."
The method supplies traditional benefits of real estate investments such as increasing equity, tax savings and properties that appreciate while also providing a positive, predictable cash flow in the form of fixed monthly payments via a triple net lease --- even when an investor's home is unoccupied. DiMalanta says investors generally enjoy a hassle-free, annual cash return of between 9 and 17% on Triple Net houses.
Dayton, Ohio-based Triple Net Houses, Inc. has established itself as the premiere provider of residential real estate management through their innovative use of triple net leases.
"We've seen a wide range of investors with our triple net leases --- everything from former landlords tired of maintenance, to business-savvy, traveling execs who enjoy the hassle-free option, to single women and older couples who want a safe investment they don't have to baby-sit," says DiMalanta. "These are people disenchanted with the volatile stock market and looking for a place their money can grow. They've all recognized a convenient, stable return using a tried and true product. At the end of the day, they are happy to have an effortless, hard asset and not just a lot of failing stocks."
For additional information on Triple Net Houses, Inc., its triple net lease products or this release, contact Ernie DiMalanta at 1.877.899.3NET (3638) or visit http://www.TripleNetHouses.com .
###