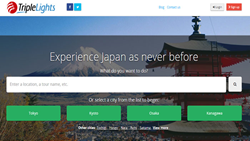 We allow tourists to easily get to know their professional guide before booking a tour on our website.
New York, NY (PRWEB) October 23, 2014
Today Travelience officially launched TripleLights, the easiest way for American tourists and business travelers to find the best professional tour guides anywhere in Japan. Unlike other services, TripleLights only uses licensed professional tour guides to ensure that tourists can purchase the most engaging, fun and educational tours. The new service also provides guides' personal videos, written profiles, blog posts, and customer reviews that help tourists get to know each guide before booking a specific tour.
There is growing demand for professional guides since the number of tourists in Japan is projected to grow to 20 million in 2020, up from 10 million in 2013 (source: Japan Tourism Agency). Providing tours anywhere in Japan – including top cities like Tokyo, Kyoto, Osaka and Mt. Fuji among many other places – TripleLights is well positioned to meet this growing demand.
TripleLights solves two key problems. First, many other tourist services and travel agencies rely on amateur volunteer guides who often have insufficient knowledge of Japanese culture and history, are not completely fluent in English, and/or force tourists to make time-consuming stops in souvenir shops.
Second, in Japan many tourist guides are underutilized because most traditional travel agencies tend to use only guides who can travel and stay overnight away from their home towns, leaving out many qualified female guides who can only do one-day tours and must stay at home to take care of their children at night. In addition, many "older" guides are not savvy in using the Web to attract new customers. As a result, 50 percent of these guides in Japan work less than three days per month.
"TripleLights is a marketplace that connects professional tour guides with tourists traveling to Japan," said Naoaki Hashimoto, CEO of Travelience. "I started our company after having a bad tour experience in Tibet with two guides, who were not very professional or knowledgeable. We allow tourists to easily get to know their prospective guide before booking a tour on our website. And we help licensed professional guides earn more revenue through more consistent employment opportunities."
How TripleLights Works
On TripleLights.com, tourists can quickly browse, search and buy various tours anywhere in Japan led by professional guides. They can also get to know each professional guide before purchasing a specific tour by watching guides' personal videos, written profiles, blog posts and customer reviews. Most tours are done walking and via public transportation (not on a traditional tour bus), which creates a more personable and interesting way to learn about local culture and history. Most tours are given in English, though there are some guides fluent in French, German, Spanish, and Chinese (Mandarin and Cantonese).
Travelience, which started out by focusing its guided tours in the Tokyo area, has one of the best industry reputations, highlighted by its 55 five-star guide ratings on TripAdvisor.com. The TripleLights blog is also one of the world's best resources on Japanese culture and things to do and see in Japan.
"The whole family and I had a great experience with Yuriko as our guide. Everything went really smoothly," said TripleLights customer, Daphne, after a tour of popular spots in Tokyo. "This is also the first time that we have commuted via public transportation on a guided tour and it was a different experience instead of being shuttled everywhere on a tour bus. We are really thankful to Yuriko for helping us in our queries that we posed during the tour, and she followed up on them even after the tour was over!"
The average tour price per group on TripleLights.com is about $245, depending on the duration, location, size of group, and experience of the guide. Most tour groups range from five to ten people, making the price per person very affordable.
About TripleLights
Travelience's TripleLights is the easiest way for tourists to find the best, professional tour guides anywhere in Japan. It is an online marketplace that connects tourists with professional tour guides in Japan. On TripleLights.com, tourists can browse and buy various tours and get to know professional guides easily through videos, blog posts and customer reviews. As of October 2014, TripleLights has 105 professional guides, and the number of guides is increasing each day. Each guide must pass a national certification exam administered by the Japan National Tourism Organization (JNTO). Travelience also has plans to expand TripleLights to Taiwan by mid 2015. Travelience earned a 2014 Certificate of Excellence by TripAdvisor. For more information, please visit http://www.triplelights.com.