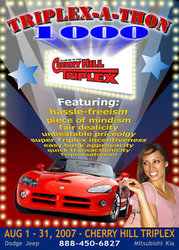 Through the combined power of my patented techniques, including (but not limited to) 'hassle-freeism', 'piece of mindism', 'fair dealicity', 'unbeatable priceolgy', 'easy bank approvacity', 'quick transactionicity' and last but not least, 'super Triplex incentiveness'
Cherry Hill, NJ (PRWEB) July 31, 2007
The far-flung and inimitable Mister C. H. Triplex, of Cherry Hill, New Jersey has today announced his intent to stage a "Triplex-A-Thon 1000" automobile sales production, taking place over the period of August 1st to August 31st, 2007, at the Cherry Hill Triplex, situated at No. 1805 West Marlton Pike, in the township of Cherry Hill, of the state of New Jersey, postal code 08002.
Tempting fate, while simultaneously suspending the disbelief of various peers, Mister Triplex reckons to unequivocally establish - to the witness of all and sundry - that he is indeed capable of such a fantastical feat as that of making 1000 full-grown motor cars disappear from the Cherry Hill Triplex establishment grounds within the predicted timespace.
Anticipated to be different from anything seen or known before, plans have been laid and are already afoot in preparation for the spectacular. For as you read this very notice, both hither and yon transports convey vehicles by day and by night; exotic equipment procured from the farthest reaches of the globe is on it's way via steamship, diesel locomotive and hot-air balloon; and whist the Triplex grounds undergo careful cultivation by a team of Japanese botanical mercenaries, a teak-wood stage (to be inlaid with genuine mother-of-pearl embellishment) is being meticulously crafted by a guild of erstwhile luthiers.
Moreover, in the interest of public contemporaneity, radio transmitters are in place and antenna masts are being erected with periodic, on-location broadcasting slated; additionally, multiple showroom-roof-bound sky cannons are to be coordinated no less, to provide navigational assistance after dusk on select evenings.
For those so-inclined, each Saturday an amazing bill-of-fare consisting of a vast array of flame-broiled culinary creations, condimentations and potations will be made available - unrecompensed - to both aspirants and fence-hangers alike.
As well (and for good measure) a literal panoply of highly-exciting (and mood-elevating) mechanized contraptions - in addition to only the most novel, inflatable thingamabobs - have been commissioned from top entertainment-engineering laboratories, and will be present and fully activated for the express thrill of extended broods.
Can it be done? Is it humanly possible? Can Mister C .H. Triplex make good on his claim to cause 1000 vehicles to vanish from the Cherry Hill grounds over the span of just 2 fortnights?
It is the basis of much conjecture that C. H. Triplex's modus operandi centers upon the selection from the prospective sea of spectators, 1000 unique participants, with whom his aides will then quickly conference individually, with each brief meeting culminating in a mutually acceptable compact whereby each singleton will be infixed with the limited dynamism to capacitate any particular vehicle (of their druthers) to evanesce from the event grounds.
Quoting from a telex dispatch, Mister Triplex elaborates: "Through the combined power of my patented techniques, including (but not limited to) 'hassle-freeism', 'piece of mindism', 'fair dealicity', 'unbeatable priceolgy', 'easy bank approvacity', 'quick transactionicity' and last but not least, 'super Triplex incentiveness'" he continues, "all may rest assured, the 'Triplex-A-Thon 1000' event will be nothing short of a 'Triplexsational' success!"
About Cherry Hill Triplex:
Featuring several hundred new and used vehicles, Cherry Hill Triplex is a southern New Jersey Dodge, Jeep, Kia and Mitsubishi dealer-group serving New Jersey, Philadelphia Metro, Delaware, New York, and beyond.
Contact:
Charles W. Foulke
Cherry Hill Triplex
1805 West Marlton Pike (U.S. Route 70)
Cherry Hill, New Jersey 08002
888-450-6827
http://www.cherryhilltriplex.com/
###