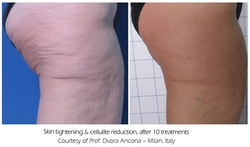 The TriPollar RF device ...can safely and effectively be used for skin tightening and circumference reduction, particularly on the body and facial areas...
(PRWEB) July 21, 2010
In the second edition of "Cellulite: Pathophysiology and Treatment", edited by Drs. Mitchel P. Goldman and Doris Hexsel, a chapter is dedicated to TriPollar technology and treatments. The chapter, authored by renowned dermatologist Dr. Woraphong Manuskiatti, reviews the results of multiple clinical trials using TriPollar technology and confirms the effectiveness of TriPollar anti-aging treatments in tightening the skin, contouring the body, improving stretch marks and reducing cellulite. The book is available here.
TriPollar Radio Frequency (RF) technology is an innovative, proprietary 3rd generation RF technology developed by Pollogen Ltd. TriPollar harnesses the inherent benefits of RF technology and overcomes the limitations of previous mono-polar and bi-polar technologies. TriPollar treatments deliver immediate visible body and facial contouring results from the first treatment and long-lasting aesthetic effects are achieved by undertaking a series of treatments. Treatment is fast, pleasant and completely non-invasive.
Dr. Manuskiatti commented: "The TriPollar RF device is a multi-polar RF system which can safely and effectively be used for skin tightening and circumference reduction, particularly on the body and facial areas, as well as for the treatment of cellulite, reduction of localized fat and improvement of striae (stretch marks) appearance. Application of this treatment modality is simple, non-invasive and safe on all skin types. Qualitative as well as quantitative assessments have been documented and the outcome from previous research studies has shown that the improvements are maintained as a long-term effect."
Pollogen's CEO, Mr. Ohad Goren commented: "Pollogen is excited by publication of the book chapter since it provides additional clinical evidence that confirms the safety and efficacy of Pollogen's innovative TriPollar technology. Various methodologies were used to measure the results including before and after pictures, histopathological evidence and ultrasound. Pollogen is committed to providing patients and aesthetic professionals with leading anti-aging solutions. Pollogen offers a non- invasive, pleasant and fast solution for patients who want to get rid of cellulite, tighten their skin after weight loss, contour their body and get rid of wrinkles. Pollogen's products are available in 60 countries worldwide and millions of patients have been successfully treated to date. "
About Pollogen:
Pollogen Ltd. develops, manufactures and markets professional medical aesthetic devices, powered by proprietary TriLipo and TriPollar technologies. Pollogen offers a full line of clinically-proven, non-invasive anti-aging body and facial shaping treatment platforms for fat reduction, cellulite treatment, stretch marks improvement and circumference reduction as well as skin tightening and wrinkle reduction. The flagship aesthetic devices,Maximus, apollo and regen XL offer customers clinically-proven, safe and effective anti-aging beauty treatments that deliver immediate and long-lasting results. To learn more, please visit the Pollogen website at http://www.pollogen.com.
###