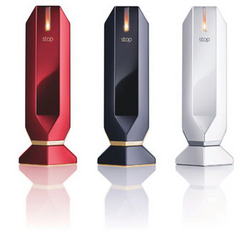 The launch of TriPollar STOP into the Hungarian market is a key part of Ultragen's vision to offer professional anti aging skin care for home use worldwide.
Budapest, Hungary (PRWEB) December 2, 2009
Ultragen Ltd, the home beauty innovators, launches TriPollar® STOP®, a skin anti aging device to the Hungarian market in partnership with Eurowares Trading Kft.
The TriPollar STOP, a hand held anti aging skin renewal device, aimed primarily at the females segment, was launched at the beginning of September 2008 in the UK's most prestigious department stores followed by France in October 2008. The device, which enables consumers to treat aging skin on the face, neck, décolletage and hand area with TriPollar energy adjusted for home use to tighten aging skin, reduces wrinkles and fine-lines and boost collagen levels is the first product to market which brings clinically proven TriPollar results to the home environment.
To date, TriPollar anti aging treatments gained remarkable success in Hungary by the professional regen™ and apollo™ systems which provide fat reduction, body contouring, and non-surgical face lifting at medical-aesthetic clinics and beauty salons. The move to bring the same technology to the Hungarian home market with the launch of TriPollar STOP makes creators, Ultragen Ltd pioneers of the growing trend to bring professional anti-aging solutions to consumers.
The exclusive partnership introduces a hand held beauty device powered by TriPollar, a technology which is currently used in the beauty salon aesthetic industry. The launch of STOP will offer consumers in Hungary the benefits of professional clinical results from a home device for the first time.
Eurowares Trading Kft. will be responsible for overseeing retail partners and building long term business relationships for the launch of TriPollar STOP, the first product developed by Ultragen. Dr Zion Azar, founder of Ultragen Ltd and creator of TriPollar says, 'The launch of TriPollar STOP into the Hungarian market is a key part of Ultragen's vision to offer professional anti aging skin care for home use worldwide.'
Renowned anti-ageing expert, Dr Ghislaine Beilin (M.D. France), comments that 'TriPollar technology has proven to be an effective solution for tightening skin and erasing wrinkles and fine lines. Migrating the same technology to a device that can be used in the home will enable more consumers to access effective anti-aging treatments.' Dr. Beilin has been working with TriPollar systems since the inception into the international market.
Managing director for Eurowares Trading Kft. , GABOR FILE says, "We are delighted to launch TriPollar STOP exclusively in all of our Hungarian partners stores in December. Our customers expect us to be the first to market with the latest innovation in anti aging skin care and the assurance of salon quality clinical anti aging results will ensure that this is a strong seller over our Christmas trading period."
TriPollar STOP will be marketed to consumers concerned with the appearance of aging skin wishing to defeat the signs of time without turning to invasive surgery techniques or expensive salon anti aging treatments. The product gives smoother, more radiant skin from the initial treatment with longer lasting effects delivered over a period of 4-6 weeks.
TriPollar STOP has been created by, Ultragen Ltd, a company established in 2007 to market consumer products based on advanced professional technologies. Sister company Pollogen Ltd, the innovative company that developed TriPollar™ in 2006 and already supplies professional solutions to medical and aesthetic clinics in over 60 countries worldwide.
About Pollogen:
Pollogen Ltd. develops, manufactures and markets professional medical aesthetic devices, powered by the TriPollar® 3rd generation Radio Frequency (RF) technology. Invented and perfected by Pollogen, proprietary TriPollar technology powers a full line of clinically-proven, non-invasive and non-surgical treatment platforms for wrinkles reduction, cellulite smoothing, circumference reduction, skin tightening and anti aging treatments. The flagship aesthetic devices, apollo™ and regen™ offer customers clinically-proven, safe and effective anti-aging beauty treatments that deliver immediate and long-lasting results.
About Ultragen:
Ultragen Ltd. was established in 2007 to develop and market consumer's aesthetic product based on clinically proven technologies such as the advanced TriPollar technology. TriPollar anti aging treatments have been successfully used and endorsed by physicians, aestheticians and professional clinics around the world. Following the success in the professional market and the growing demand worldwide for salon quality treatments at home, Ultragen™ Ltd has adapted the same professional TriPollar RF technology for home use and has made it available in the hand-held TriPollar STOP and TriPollar POSE devices providing professional level anti aging results of immediate and long term effects in the comfort of the client's home.
For more information about Pollogen and TriPollar technology please visit: http://www.pollogen.com
For more information about TriPollar STOP clinical anti aging skin renewal device please visit: http://www.stop-age.com
For further information on TriPollar STOP in Hungary contact:
Nagygyörgy Kata at 0652 527-015
###