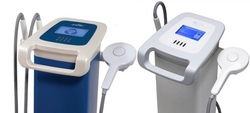 The advantages of Pollogen's leading TriPollar technology is supported by numerous clinical papers published in international medical journals.
(PRWEB) June 27, 2010
Pollogen Ltd. is the exclusive designer and manufacturer of systems powered by TriPollar® technology. Since its initial launch in 2006, TriPollar technology has revolutionized the aesthetic market by providing effective anti aging and body shaping treatments that overcome the limitations of previous mono-polar and bi-polar radio frequency technologies. To date, millions of satisfied customers worldwide have enjoyed the immediate visible results and the long term anti-aging effects provided by Pollogen's products.
The advantages of Pollogen's leading TriPollar technology is supported by numerous clinical papers published in international medical journals (for a full list see http://www.pollogen.com/Scientific-References/Publications.html). Most recently TriPollar results were published in the second edition of "Cellulite: Pathophysiology and Treatment", edited by Drs. Mitchel P. Goldman and Doris Hexsel, in a chapter dedicated to the superior TriPollar technology and treatments. The chapter, authored by Dr. Woraphong Manuskiatti, from the Department of Dermatology, Faculty of Medicine Siriraj Hospital, Mahidol University, Bangkok, Thailand, reviews the results of multiple clinical trials using TriPollar technology and confirms the effectiveness of TriPollar treatments for anti-aging, tightening the skin, contouring the body, improving stretch marks and cellulite treatment especially effective on thigh cellulite. The book is available at:
Catalogue informa helth care.
Regretfully, the fact that we are in the leading position in the aesthetic market has resulted in inferior companies illegally using the trade mark "TriPollar" and misleading clinics and customers to believe that their fake products are Pollogen's TriPollar based products. These knock off TriPollar products usually do not have any scientific, clinical or regulatory authenticity.
Pollogen's TriPollar technology uses multi-polar applicators and sophisticated algorithms to control the RF output. This enables simultaneous deep volumetric heating of the dermis and hypodermis layers that in turn regenerates collagen and shrinks fat cells. Treatment with TriPollar is fast, pleasant and completely non-invasive. Patients enjoy immediate anti-aging results and long term effects are achieved by undergoing a complete treatment protocol.
Pollogen has protected its TriPollar 3rd generation RF technology by patents and pending patent applications as well as global registered trademarks and trademark applications. Pollogen's technology is patent and trademark protected, in whole or in part. Any unauthorized use of the TriPollar name and its variations constitutes an infringement of Pollogen's intellectual property.
This letter is designed to warn the public against fake "Tripollar" system. Pollogen strongly urges consumers to ensure that the TriPollar treatment they wish to undergo will be performed only in clinics that have a TriPollar based system manufactured by Pollogen. Before any TriPollar treatment ask for the original TriPollar certification from the system operator.
Pollogen cannot take responsibility for treatment performed by fake "Tripollar" systems that have not undergone the rigorous clinical validation and regulatory approvals that Pollogen's products have.
About Pollogen:
Pollogen Ltd. develops, manufactures and markets professional medical aesthetic devices, powered by proprietary TriLipo and TriPollar technologies. Pollogen offers a full line of clinically-proven, non-invasive anti aging body and facial shaping treatment platforms for fat reduction, cellulite, stretch marks and circumference reduction as well as skin tightening, wrinkles and fine lines removal. The flagship aesthetic devices, Maximus, apollo and regen XL offer customers clinically-proven, safe and effective anti-aging beauty treatments that deliver immediate and long-lasting results. To learn more, please visit the Pollogen website.
If you have encountered a clinic that offers "fake" TriPollar treatments, please contact us with the details of the clinic at info(at)pollogen(dot)com
If you would like to find out where there is a clinic near you that offers genuine Pollogen's TriPollar treatments, please do not hesitate to contact us at info(at)pollogen(dot)com .
###