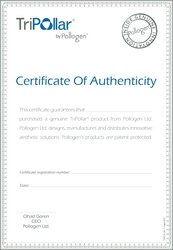 Customers wishing to undergo TriPollar treatments should ensure that the clinic they are in contact with uses an authentic TriPollar device manufactured by Pollogen.
(PRWEB) August 3, 2010
Pollogen Ltd. is the exclusive designer and manufacturer of TriPollar radio-frequency (RF) based anti-aging systems. Clinically proven, TriPollar technology has become a gold-standard in the aesthetic field offering a wide variety of anti-aging treatments- skin tightening and facial rejuvenation, fat reduction and body contouring, cellulite improvement and more. The treatment is completely non-invasive and can be performed in an office based environment within half an hour. Following anti-aging treatment, patients can immediately resume their daily routine. TriPollar based systems are highly effective and results are visible after the very first treatment. Long term sustainable results are achieved by undergoing a series of treatments. To date, millions of satisfied patients have been treated throughout the world.
A negative aspect of the popularity of the TriPollar technology has been the emergence of counterfeit products. These products claim to produce the same results as Pollogen's TriPollar systems yet do not have any clinical or scientific validity.
In its fight against unethical companies that claim to produce TriPollar based medical devices, Pollogen turned to E-Bay where many pseudo TriPollar systems were being published. E-Bay immediately responded to Pollogen's request and removed the faked products from its site.
Pollogen's CEO, Mr. Ohad Goren commented: "Pollogen protected its TriPollar 3rd generation RF technology through patents and trademarks. It is unfortunate that unethical companies are claiming TriPollar technology as their own. We are grateful to E-Bay for their professionalism and high moral code."
Pollogen initially launched its revolutionary TriPollar based solutions in 2006. TriPollar technology was a breakthrough in the aesthetic field. Prior to TriPollar, only mono-polar and bi-polar radio-frequency based solutions existed. TriPollar technology overcame the limitations of these previous technologies and offered a significantly safer, more effective and more pleasant treatment experience.
TriPollar technology focuses the radio-frequency current between 3 or more electrodes and limits the energy to the treatment area only. Patented algorithms control the polarity and activation of each electrode allowing for variable depth penetration. As a result, TriPollar technology allows for the simultaneous heating of both the dermis and hypodermis layers without injuring the epidermis.
The internal heat causes collagen fibers, which are the key structural component of the skin, to contract. This contraction results in immediate skin tightening and improved skin texture. In parallel, the heating causes fibroblast cells, the cells responsible for collagen production, to generate new collagen. The new collagen provides the skin with added flexibility which yields long term skin tightening and wrinkle reduction.
Simultaneously, the rise in temperature stimulates fat cells to secrete fatty acids (liquid fat) which is naturally disposed of via the blood and lymph systems. This allows for targeted body contouring.
Pollogen provides clinics that offer TriPollar treatments with a "Certificate of Authenticity". Customers wishing to undergo TriPollar treatments should request to see the Certificate in order to ensure that they are getting a genuine TriPollar anti-aging treatment. Pollogen cannot take responsibility for treatment performed by counterfeit "TriPollar" systems that have not undergone the rigorous clinical validation and regulatory approvals that Pollogen's products have.
To find out the location of an authorized Pollogen clinic or to advise Pollogen of counterfeit companies, please e-mail info(at)pollogen(dot)com .
About Pollogen:
Pollogen Ltd. develops, manufactures and markets professional medical aesthetic devices, powered by proprietary TriLipo and TriPollar technologies. Pollogen offers a full line of clinically-proven, non-invasive anti-aging body and facial shaping treatment platforms for fat reduction, cellulite treatment, stretch marks improvement and circumference reduction as well as skin tightening and wrinkle reduction. The flagship aesthetic devices, Maximus, apollo and regen XL offer customers clinically-proven, safe and effective anti-aging beauty treatments that deliver immediate and long-lasting results. To learn more, please visit the Pollogen website.
# # #