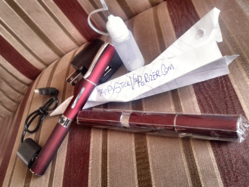 Is that a pricey check-signing pen in your stoner friends pocket at work?

Look closer, it's probably not. It is probably a trippy stick...
Los Angeles, CA (PRWEB) September 12, 2012
Trippy Sticks, a new portable vaporizer for Hash Oil, is dominating growth charts on the stoners' market. Exploding on the scene in 2012, medical marijuana legalization in New Jersey, California, Oregon, Colorado, Arizona, and other states fueled the demand. Sold on-line at e-store, TrippyStickVaporizer.com [ click here ], the new way to get THC is changing the images of pot smokers everywhere.
Is that a pricey check-signing pen in your stoner friends pocket at work?
Look closer, it's probably not. It is probably a 'trippy stick', a portable Hash oil vaporizer rising in popularity. Stoner culture is turning towards the 'privacy pen' in the cities of Denver, Los Angeles, Seattle, San Diego, Newark, NYC, Boston, Miami, Phoenix, & more MMJ friendly towns.
The Trippy stick vape pen does not look like a glass bong or alien sculpture. The $100 hash oil toking tool actually doubles as a pen when capped. Camouflaging itself to give medical marijuana users privacy, the design was thoughtful of stoner's wishing to keep mature and stylish image.
Not just a 'fad', the trippy stick was also designed with your neighbors health & sanity in mind. Everyone does not smoke marijuana and the scent of MMJ is not desired everywhere. These 'sticks' do not release a scent and eliminate smoke by vaporizing Hash oil instead of burning.
On YouTube, trippy stick users can be seen smoking the vaporizer pen at restaurants, on airplanes, in cars, and of course at home. Even rappers Soulja Boy and Wiz Khalifa have posted visuals of themselves using various versions of the pen on social media.
What are the benefits of these trippy stick hash oil cartridges being vaporized? Can it really be more healthy than rolling a joint with a'la natural marijuana plant?
According to various MMJ blog sites, yes. Since it does not burn the THC-concentrated 'OG' Hash oil, it should be healthier. Rolling joints and burning them still produces toxins bad for any human user's internal organs. Trippy sticks, instead of burning, vaporizes Hash oil at a temperature too low to burn, creating a pure mist of high powered THC mist. According to some twitter trippy stick review articles on TrippyStickVaporizer.com, it provides more 'elevated' results.
Launched in recent years, there are different types of 2012 Trippy Stick vaporizers. However, most retailers use the same model, re-branded. The official pen should retail around $95 [ click here ].
Respected retailer, TrippyStickVaporizer.com, claims internal mechanics are the difference to watch out for. The TSV store upgrades all models it retails, as soon as the market changes. It also boasts to be one of the few retailers offering longer life batteries and stainless steel operating counterparts.
The pen's success will continue to grow as medical marijuana laws are implemented in more American states. Recently New Jersey, just a train ride away from New York City [ New York ], announced plans to open its first MMJ dispensary in Essex. The states of Colorado, Arizona, Washington, Oregon, and California already had laws in place.
Medical Marijuana is being lobbied for in various major cities. Petitions can be found on-line for pot-smokers looking to expand legal boundaries to the major metros of Miami, Atlanta, Dallas, Houston, Boston ( decriminalized here already ), Charlotte, & more.
If MMJ laws do change in all of the cities, the trippy stick vaporizer pen is sure to dominate those markets as well. In fact, some believe everyone should look towards the new technology. It's being deemed 'more responsible' of those personally using MMJ when in public places.
TrippyStickvaporizer.com is a leading retailer of the new hash oil vape pens on-line. It offers different styles & grades of the pen. Retail prices begin at $89.99. Founded by Terry Vanglore, the shop will begin branding it's own trippy stick with a name that keeps Denver [Colorado], Seattle [Washington], Los Angeles [California , Phoenix [Arizona], and Newark [New Jersey] in mind.