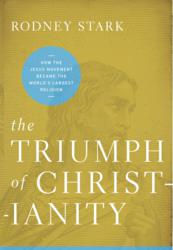 The book raises, simply and brilliantly, just the kind of questions anyone concerned with early Christians should ask.—The Christian Century
San Francisco, CA (PRWEB) October 25, 2011
Christianity was an obscure Jewish sect likely numbering no more than several hundred people when the provincial teacher at its heart was executed by the Romans. Yet it rose to become—and still remains—the largest religion in the world. Sociologist Rodney Stark (Institute for Studies of Religion, Baylor) chronicles and explains Christianity's astonishing ascendancy in THE TRIUMPH OF CHRISTIANITY: How the Jesus Movement Became the World's Largest Religion (HarperOne; $27.99; 9780062007681).
Fifteen years ago, Stark wrote the seminal work The Rise of Christianity, explaining through pioneering social scientific principles the faith's early success in conquering Rome. In THE TRIUMPH OF CHRISTIANITY, he applies the same insight and scholarship to the past two millennia, creating an indispensible and comprehensive guide to Christian history that is the culmination of his thirty highly regarded books.
Stark challenges the conventional interpretation of many major events in the Christian narrative. He argues that Constantine's conversion did the Church a great deal of harm, for example, and that the majority of converts to early Christianity were women. He asks provocative questions such as: Was the conversion of Jews and Muslims during the Spanish Inquisition sincere? How was Christianity's rise influenced by the misery of daily life in Greco-Roman cities? What role did vigorous competition play in the success, and failure, of churches in colonial America?
Finally, having brought readers to the present day, Stark makes a provocative case that the popular notion that religion must disappear to make room for modernity is amply disproved by the sociological evidence. He explains why faith remains vigorous in almost everywhere around the world – and why the rise of Christianity continues to this day.
For scholars and armchair historians alike, THE TRIUMPH OF CHRISTIANITY is a brisk and thought-provoking journey through events we think we know—and need to reconsider.
About the Author:
Rodney Stark is the Distinguished Professor of the Social Sciences and codirector of the Institute for the Studies of Religion at Baylor University. His previous books include The Rise of Christianity, God's Battalions, Cities of God, and Discovering God, which won the 2008 Award of Merit for Theology/Ethics from Christianity Today. Visit the author online at http://www.rodneystark.com.
Praise for the Work of Rodney Stark:
THE RISE OF CHRISTIANITY
"The author provides a refreshing, unorthodox polishing of Martin Luther and the Spanish Inquisition, while crediting the survival and growth of Christianity to the rich pluralism of America….Take that, warriors of secularism." — Kirkus
"The book raises, simply and brilliantly, just the kind of questions anyone concerned with early Christians should ask."—The Christian Century
"Stark uses contemporary social-scientific data about why people join new religious movements and how religions recruit members to investigate the formative history of Christianity….[The Rise of Christianity will] generated spirited argument."—Publishers Weekly
GOD'S BATTALIONS
"[Stark] wants to challenge the prevailing television pundit-level misunderstanding of the Crusades, and in this, his accessible, enjoyably argued book succeeds."—Christianity Today
"Rodney Stark turns what we 'know' about history on its head."—Relevant magazine
"A well-researched and easy-to-read academic masterpiece. Stark proves himself once again as a historical myth-buster."—CBN.com (A+ rating)
DISCOVERING GOD
"Stark's retelling of the origins of the world's great religions is fascinating and excellent."—Newsweek
THE TRIUMPH OF CHRISTIANITY
by Rodney Stark
HarperOne, an Imprint of HarperCollinsPublishers
October 2011 | $27.99 | Hardcover | ISBN: 9780062007681
# # #