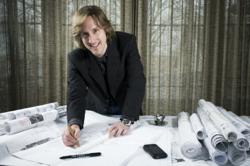 Every May, REMODELING inducts 50 new companies who have set the standard for professionalism and integrity....
Arlington, VA (PRWEB) May 13, 2011
Michael Sauri, president of TriVistaUSA in Arlington, VA, has been chosen one of the "Big 50" Remodelers in the U.S. by Remodeling Magazine. The awards are being presented at the Remodeling Leadership Conference in Arlington, VA, on May 13 and winners are featured in the May issue of Remodeling Magazine.
Now in its 25th year, the "Big 50" is a remodeling industry excellence award that recognizes best practices in the industry. On its website, Remodeling Magazine describes the process: "Every May, REMODELING inducts 50 new companies who have set the standard for professionalism and integrity through smart marketing, exemplary business practices, unique design, and extraordinary impact on their community or the industry at large. Big 50 remodelers run successful, growing companies of various sizes that have taken the lead in raising the standards of the industry."
Sauri won in the category of "Market Wise," which recognizes remodelers who have built their businesses around a keen understanding of their market.
Started as an Avocation
Sauri has been remodeling for ten years. "In the beginning, I was just doing stuff for myself – I developed about a dozen homes for resale," he says, "and then started getting asked by friends of friends to take care of their homes." He started building a reputation as a creative, go-to guy for home renovations.
In 2005, Sauri incorporated his remodeling company as TriVistaUSA, an anagram of his and his wife's last names. He was licensed in Virginia, Maryland and the District of Columbia that year as well. In 2006, he hit the big time, when he was featured on the HGTV renovation series, "Curb Appeal." He completed three projects that were featured on Curb Appeal in 2006 through 2008 and are still featured in reruns.
Sauri is award-winner
Sauri received a Green Home Choice Award from Arlington County in May 2009 for his own home. In November 2010, Sauri was recognized as a finalist for an ECO CEO award from Washington Smart CEO Magazine in the category of Small Business Implementer. Washington Smart CEO defines the implementers as "companies that are integrating innovative green solutions into their business." Sauri does more than integrating green solutions into his business, he integrates them into his life, using his own home as a laboratory for "green" building practices.
Three of Sauri's projects received awards at the 2010 Capital CotY Awards on January 29, 2011, from the Metro DC NARI Chapter. Two of the winning projects are residential exterior renovations and one is a complete renovation/restoration of an historic 19th century farmhouse. One of the exterior renovations - a porch - was featured on the website of remodeling guru Bob Villa in August 2010. Sauri was also featured in a video on Remodeling TV, where he explained TriVistaUSA's unique blended insulation strategy, developed to utilize both the performance of spray-foam and the cost effective benefits of batt insulations.
In 2007, TrivistaUSA won two CotY (Contractor of the Year) awards from NARI (National Association of the Remodeling Industry). In 2008, two more CotYs followed.
For more information on TriVistaUSA, visit http://www.trivistausa.com.
###