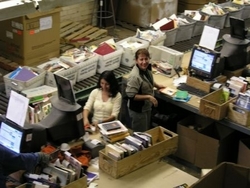 Sure. We are always looking for good supply and quality team members.
Seattle, WA (Vocus) July 8, 2008
Thrift Recycling Management, Inc., (TRM), the largest seller of used books on the internet, and Discover Books, Ltd of Abbotsford, British Columbia, announced today that TRM is acquiring Discover Books. They will combine Discover's operations with TRM, while continuing to grow both brands.
Discover Books is Canada's largest book recycler and sells more than 600,000 books per year.
"We are excited to join the TRM team," said Marcus Ouimet, President and CEO of Discover Books. "Their desire to give back to the community matches our philosophy. We are eager to work with them to achieve our common goals."
This acquisition represents another important milestone in the phenomenal growth of TRM. Since TRM began operations in 2004, annual sales have increased to more than $20 million. The company now has more than 150 employees and is the largest internet seller of used books in the world. TRM acquires surplus merchandise (primarily books) from thrift stores, nonprofit organizations, and publishers and sells the merchandise online or recycles it and sells the recycled materials overseas. TRM also donates thousands of high quality children's books to literacy programs in the U.S. and abroad.
"Acquiring Discover will greatly help us increase our presence in Canada," said Phil McMullin, CEO of Thrift Recycling Management, Inc. "The market for used books continues to grow in part because of increased awareness of the benefits of reusing and recycling. We are well positioned to increase sales and continue our growth trend. We have strong IT capability, a solid work force, and our goal is to be a profitable green company. The success we have achieved to date demonstrates that it is feasible to be environmentally and socially conscious and still be profitable."
With headquarters in Lakewood, Washington and operations in Lakewood, and the urban areas of Atlanta (Newnan, GA), Chicago (Hammond, IN), Salt Lake City, Los Angeles and Boston (Woonsocket RI), TRM has established an important niche in the rapidly expanding market of used books. They sell approximately 3 million books per year and have captured a significant share of the used book market in just the last four years.
TRM purchases surplus merchandise from thrift stores and nonprofit organizations such as Goodwill Industries and The Salvation Army. These organizations benefit because they receive additional revenue and avoid disposal costs for items they have been unable to sell. There also are environmental benefits because the materials for which there had historically been no market are reused or recycled, not buried in landfills.
Merchandise that TRM does not sell online is either recycled or in the case of books, donated worldwide. TRM contributes to a nonprofit organization, Reading Tree, which has provided more than one million free books to children in the U.S. Together they have donated more than 5 million books to children overseas.
When McMullin was asked if there are additional acquisitions in the future, he responded, "Sure. We are always looking for good supply and quality team members."
About Thrift Recycling Management
Thrift Recycling Management Inc. (TRM), the largest on-line seller of used books in the world, was established in 2004. With operations throughout the U.S., TRM carries an inventory of nearly two million books for sale online at all times and uses a portion of the proceeds to support children's literacy programs in the U.S. and abroad. The company also donates books to many non-profit organizations. For more information, visit http://www.thriftrecycling.com
About Discover Books Ltd.
Established in 2007, Discover Books is the largest recycler of used books in British Columbia and one of the largest in North America. Marcus Ouimet has been active in the on-line retail business for ten years. The company (located in Abbotsford outside of Vancouver, British Columbia) employs 30 and also owns New Chapter Recycling in Bellingham, Washington. Discover Books recycles millions of books each year, has nearly one million books in its catalogue, and adds thousands of titles to its inventory each day. In addition to books, the company recycles VHS tapes, audio books, cardboard, magazines, and many other paper products.
About Reading Tree
Reading Tree, a nonprofit organization based in Boston, is dedicated to promoting children's literacy by making books available to all children. The organization (a dba of Books for Charity in Boston) receives donations from Thrift Recycling Management (TRM) and others. Reading Tree partners with community organizations to develop reading programs and organize book drives to help foster early literacy and a love of reading among children in need. For more information, visit http://www.readingtree.org
###