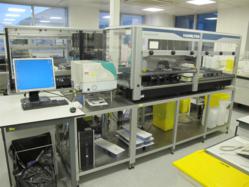 Sheffield, UK (PRWEB UK) 4 January 2012
Items from all over the UK will be consolidated to a single location to enable prospective purchasers to view the forensic analysis and laboratory equipment prior to bidding. Troostwijk's UK Managing Director James Hague said, "The quality and diversity of equipment available will appeal to both scientific industries and educational establishments. This is a fantastic opportunity to acquire excellent quality equipment, particularly for those setting up forensic science laboratories or universities providing forensic science degree courses."
Amongst the 2500 lots available are 5 scanning electron microscopes up to 2010, 9 high pressure liquid chromatographs up to 2010, 5 Agilent gas chromatographs with mass spectrometer detectors, 2 refrigerated automatic sample stores, 29 robotic fluids handlers up to 2010, 20 DNA sequencers/analysers, in excess of 350 high and low power microscopes with light sources and 20 Millipore water purification systems. In addition there will be an range of forensic science equipment including finger print and document analysis equipment and GRIMs, over 100 cameras plus several lots of various photographic equipment, laboratory furniture and garage equipment.
A Government owned company since April 2005, the FSS has pioneered major advances in forensic science. FSS's most widely recognised accomplishment was the development of the first DNA database. The organisation is also responsible for developing low copy number (LCN) DNA profiling. Evidence collection and analysis in countless criminal investigations has utilised FSS developed technologies such as glass refractive index measuring machines (GRIMs), used to identify the origin of tiny shards of glass and electrostatic document analysis (ESDA's) that enables the examination of writing impressions on paper which are invisible to the naked eye.
Full details of the auction can be found at http://www.troostwijkauctions.com.
###