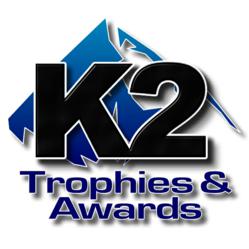 We fully expect screenpriting to be as large as the awards business in a few years.
Richmond, VA (PRWEB) May 31, 2012
K2 Trophies and Awards is excited to announce the launching of http://www.K2Teamworks.com, a website for designing and ordering custom screen-printed clothing. The company started their screen-printing division two years ago in response to customer demand.
Charlie Moss, president of K2 Trophies and Awards, stated, "Over the years that we have been in the awards business, we have been fortunate to build a very large base of loyal customers who love our products and services. Our customers continually ask us to offer additional products and services, with screen printing being one of the most frequent requests due to the overlap of trophies and screen printed team shirts and jerseys. Up to this point, we have mainly offered the screen printing services to our existing customer base, but with this new web site, we hope to expand beyond this base. We fully expect our screen printing division to be as large as the awards business in a few years."
The company operates both automatic screen printing presses for large volume orders and manual presses for small orders. In addition, the company offers an Eco-Magic product that is great for really small orders (as few as one shirt) with many ink colors in the design.
The company has reduced regular production time for screen printing to five business days and offers 3-business-day rush service. The company accepts orders for as little as a single custom shirt to orders of several thousand screen printed shirts.
About The Company
Established in 2002, K2 Trophies and Awards has become a leading on-line supplier of trophies, plaques, medals and awards throughout the United States. Visit their website at http://www.k2awards.com