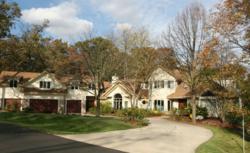 An especially attractive feature of this home is its private, storybook setting on over an acre of wooded and meticulously manicured grounds situated on the 5th hole of the Trevino course with an impressive outdoor entertaining Mecca," Mr. Fine said.
Lake Geneva, WI (PRWEB) June 02, 2011
Today, Fine & Company WI, LLC, the nation's boutique real estate auction company, announces the sale of this 7,602 Sq Ft Showcase Home in the Pristine Golf Community of Geneva National in Lake Geneva, Wisconsin. The auction will take place on June 16, 2011.
Last fall, Dr. Nicholas and Laurie Gianitsos received a brochure describing the auction of Knollwood, a spectacular 18,000 SF mansion on almost twenty acres in Darien, Wisconsin. They were not even looking for a new home at the time, but the opportunity to buy this property at auction got their attention even though they had just completed an expansion and renovation of their own trophy home at Geneva National. A few weeks later they were the winning bidder at the auction.
After experiencing first hand what goes into the marketing of a trophy home auction, Dr. Nick & Laurie decided that auctioning their former home with Fine and Company is just what the doctor ordered!
Dr. Gianitsos said, "Our former home is one of the larger and better constructed homes at Geneva National. It is built on a double lot that is considered by many to be one of the finest lots at Geneva National. The home was recently expanded and totally redecorated including new kitchen, a second main level master suite, indoor spa, outdoor entertaining areas including a stone waterfall, decks and even a wood-burning outdoor oven and now a four car garage. Because it is such a special property, my wife and I knew that we wanted a first class approach to selling our home." Dr. Gianitsos continues, "A premier home deserves a premier company to represent it and we know that Fine & Company WI, LLC is the right company for the job."
Dr. Nicholas Gianitsos is the Medical Director of the Mercy Men's Health Center as well as the Chairman of Robotic Surgery at Mercy Health System a three hospital system in southern Wisconsin and northern Illinois. As a board certified urologist and da Vinci® trained surgeon, he performs surgery on both sides of the state line, so the move to the small hamlet of Darien places Dr. Gianitsos in the exact center of his commute between the three hospitals.
Michael A. Fine, principal of Fine and Company, said: "Those on both sides of the auction, purchasers and sellers alike, have come to find tangible value in this marketing and sales method."
Fine adds, "The auction is a systematic and sophisticated marketing approach to the sale of real estate not found in conventional brokerage that the auction focuses attention on the property and establishes a relative time-certain date of sale, which is especially appealing to sellers of means who are intent on moving on to the next phase of their highly productive lives. For a highly acclaimed surgeon with a hectic lifestyle like Dr. Gianitsos, an auction is the perfect solution!"
Fine noted, "Buyers do exist in today's real estate climate, but need to be reached by casting a wider net and having a chance to get a fair deal. Owning a home should not have the effect of a ball and chain around an owner's ankle tying you down to a location when you are ready to sell. The auction allows the seller to take control of the process and set the date for the sale of their property."
Located just 4 miles west of Lake Geneva, Wisconsin, Geneva National is the perfect site for your weekend getaway home. As Chicago stretches northwest and Milwaukee expands southeast, Geneva National is also becoming a great site for quiet suburban living.
Introduced in 1990, this 1600-acre gated community surrounds 54 holes of legendary golf and offers tennis, swimming, water sports, and miles of scenic hiking trails.
An especially attractive feature of this home is its private, storybook setting on over an acre of wooded and meticulously manicured grounds situated on the signature 5th hole of the Trevino course with an impressive outdoor entertaining Mecca," Mr. Fine said.
Soaked in natural light, this distinctive home boasts over 7,600 sq ft, six bedrooms (including two first floor master suites), four full bathrooms plus 2 three-quarter baths and two half baths, 4 fireplaces, an attached 4 car garage, office, two kitchens and an indulgent spa room.
Conveniently located at 1237 Geneva National West, the home is available for viewing by appointment only on: June 4th and June 11th from 11:00 am to 1:00 pm as well as an additional showing in the evening from 7:30pm to 9pm on June 11th. Call (312) 278-0600 ext 101 to schedule a viewing as an escort is required from the Geneva National Gate to the home.
Originally on the market for $1.6 million this auction will allow the right buyer a chance to be part of the exclusive Geneva National community that "Where to Retire Magazine" has repeatedly ranked as one of America's 100 Best Master-Planned Communities and one of the best communities to retire in. One visit to this elite community and you will understand why!
About Lake Geneva, WI:
Lake Geneva is in Walworth County and is touted as a popular year-round tourist destination. It has that wonderful small town feel with a population of approximately 7,148 as reported in the 2000 census.
With a drive just under 5 minutes, there is a lot to do in Lake Geneva! Nestled on the northeastern shores of Geneva Lake in southeast Wisconsin, Lake Geneva has been a resort community since just after the Civil War when wealthy Chicago families discovered the site and began building summer homes there. Today, the elegant, often historic estates still ring the unspoiled waters of Geneva Lake.
Lake Geneva is also the newest member of the National Trust for Historic Preservation's Dozen Distinctive Destinations. The trust refers to Lake Geneva as one of the "Midwest's most beautiful natural wonders" and picked the city because of its long history as a vacation destination with its abundance of recreational activities.
For generations, the lure of Lake Geneva has drawn thousands of visitors from across the Midwest. From sparkling beaches to shopping, dining, and entertainment, this thriving lake community is home to concerts, festivals, boutiques, galleries, regattas and the breathtaking natural canvas that is southern Wisconsin lake country. Now a piece of the lake life can be yours. High above the shores of Lake Como, there's a place to let your spirit soar.
A detailed Bidder's Information Packet has been assembled for this home, and contains property specific information, the auction and the Terms of Sale. The purchase of the packet is required to bid at the auction and will be available for sale at all viewing opportunities for $40 or by contacting the Project Manager at (312) 278-0600.
Headquartered in Chicago with offices in Dallas, San Francisco and Las Vegas, Fine and Company WI, LLC specializes in asset-specific marketing and is rated the premier real estate auction company in Chicago having recently successfully completed Chicago's First Gold Coast auction at 1400 N. Lake Shore Drive and has listed the Chicago penthouse of 5-time Emmy winner, Kay Alden.
Please call Fine & Company at (312) 278-0600 or visit http://www.fineandcompany.com/upcoming-auctions/116-geneva-national.html for more information.
# # #