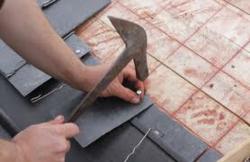 Roof Link Inc. now contracts with insurers to be one of the go-to companies that are among the first responders to North Florida area property damage.
Jacksonville, Florida (PRWEB) August 29, 2012
Tropical storm Isaac damage in Jacksonville, FL is now being repaired by expert roofing company Roof Link Inc. This North Florida company is headed up by Garrett Wadford and is one of Jacksonville's fastest rising companies. While major damage from tropical storm Isaac was avoided, homeowners have experienced some damage and Roof Link Inc. has responded promptly. The start of the 2012 hurricane season is now underway and Roof Link Inc. has added several key members to its staff to help with the homeowner demand for roof repairs and replacements. Price quotes for instant roof repairs and installations can be obtained by using the online quote form at the following link on the Roof Link website http://www.roofingjacksonvilleflorida.com/contact.
Hurricane damage brings millions of dollars in repairs costs to states like Florida each year. Tracking the path of a tropical storm is not an exact science and many storms quickly turn into high category hurricanes with little warning. Part of the damage from hurricane winds includes damage to shingles, windows and the underlying wooden supports to a roof. Companies have started to produced high wind tested shingles and products in an effort to help lessen the damage factor. For homeowners in cities like Jacksonville, Florida, Roof Link Inc. is now installing high wind Owens Corning shingles to help prevent future damage to a roof.
Tropical storm winds can bring more damage than just rain and hail. Tornados are a side effect of a tropical storm and these can often happen immediately after a tropical storm passes through a neighborhood. The National Weather Service in Florida frequently issues Tornado warnings to residents. Companies that get called upon to clean up the damage left by tornados and tropical storms include companies like Roof Link Inc. Florida insurance companies that provide policy roof repairs and replacements work with licensed roofing companies that are able to perform the requested work quickly.
Roof Link Inc. now contracts with insurers to be one of the go-to companies that are among the first responders to North Florida area property damage. A fast arrival time is what can restore the damage fast and eliminate what is known as secondary damage due to algae growth or mold infiltrations. Applying a new roof or repairing holes or gaps in an existing structure is what can extend the lifespan of a property in a high probability hurricane state like Florida.
Homeowners that are interested in the roof replacement or repairs services now provided by Roof Link can contact this company directly at Roof Link Inc., 2730 Isabella Blvd., Suite 50, Jacksonville Beach, FL 32250 or calling directly at (904) 900-2801.
About Roof Link Inc.
A team of expert roofers, friendly customer support agents and a convenient location are just a few of the Roof Link Inc. differences that homeowners receive when this roof replacement company responds. Located in the North Florida area, Roof Link Inc. is owned and operated by master roofing contractor Garrett Wadford. Standard insurance company repairs and now tropical storm and hurricane damage repairs in Florida are among the variety of services now offered by Roof Link Inc. This expert company is among the first responders to any damage in the Jacksonville, Florida area or surrounding communities.