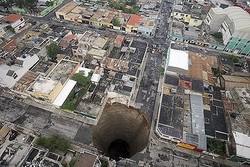 "Nearly 100,000 people have been evacuated from their homes so the need for emergency shelter is clear," said operations manager John Leach.
Lakewood Ranch, FL (Vocus) June 2, 2010
International disaster relief charity ShelterBox is responding to a devastating tropical storm, which has ravaged large parts of Central America and forced tens of thousands of people out of their homes.
Tropical Storm Agatha struck Guatemala on Monday dumping more than 3 feet of rain in the mountainous west of the country and in neighboring El Salvador.
The torrential downpours have killed nearly 150 people and left more than 94,000 homeless as the storm buried homes under mud.
ShelterBox is deploying a US and Canadian-based ShelterBox Response Team (SRT) to Guatemala to assess the need for emergency shelter.
"Nearly 100,000 people have been evacuated from their homes so the need for emergency shelter is clear. Last week's eruption from the Pacaya volcano is likely to have worsened the effects of the flooding and we are looking to see how we can help those in greatest need," said operations manager, John Leach.
Last November ShelterBox responded to Hurricane Ida which caused flooding and mudslides that killed at least 150 people as it moved through the region.
Central America is vulnerable to heavy rains due to its mountainous terrain, while poor communications in rural areas complicate rescue efforts.
Individual tax-deductible donations to ShelterBox USA can be made at http://www.shelterboxusa.org or via text message by sending SHELTER to 20222 for a one-time $10 donation. For information on or to make a contribution by phone, please call 941-907-6036.
About ShelterBox
Since its inception in 2000, ShelterBox (http://www.shelterboxusa.org) has provided shelter and dignity following over 100 disasters in more than 70 countries, bringing the organization to the forefront of international disaster relief. ShelterBox instantly responds to earthquake, volcano, flood, hurricane, cyclone, tsunami or conflict by delivering boxes of aid. In many cases, ShelterBoxes have made the difference between life and death.
Each ShelterBox supplies an extended family of up to 10 people with a tent and lifesaving equipment to use while they are displaced or homeless. The contents are tailored depending on the nature and location of the disaster, with great care taken sourcing every item to ensure it is robust enough to be of lasting value. Highly trained ShelterBox Response Teams distribute boxes on the ground, working closely with local organizations, international aid agencies and Rotary clubs worldwide.
Contact:
Alan Monroe
P: 941.907.6036
# # #