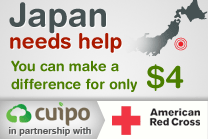 Although our primary goal is rainforest preservation, the ultimate goal is to save our planet
Los Angeles, CA (Vocus/PRWEB) March 22, 2011
Cuipo has announced it has partnered with the American Red Cross to raise funds for relief efforts in Japan. Cuipo will donate up to 1,000,000 meters of tropical rainforest so that anyone who donates to the American Red Cross Japan Relief Effort, on the Cuipo website, will also be adopting a meter of rainforest at no additional cost. This unique initiative allows people to not only help the efforts in Japan but also enables them to prevent deforestation in our planet's most biodiverse region.
Cuipo's rainforest preservation - global warming initiative is centered around the adoption of rainforest land to allow for preservation in perpetuity. Cuipo's goal is to purchase and preserve at least 4 meters for every meter adopted, thereby exponentially creating greater affect. Cuipo also uses the proceeds from adoptions to help employ local workers and indigenous groups as well as design education and awareness programs aimed at creating sustainable and economically beneficial lifestyles.
"Cuipo is proud to be able to help Japan in their time of need. Although our primary goal is rainforest preservation, the ultimate goal is to save our planet and aid the citizens of our planet in any way possible. We think this partnership with the Red Cross is an excellent way of addressing and assisting two very pressing global problems. We hope that everyone will see the opportunity to help our environment and also give to those in Japan, who are in need of assistance during this time of horrible tragedy," said Gus Hurst, CEO of Cuipo, LLC.
About Cuipo
Cuipo is a social enterprise that advances its social mission of protecting the world's endangered rainforest and providing education and awareness programs that inspire individuals and organizations to cultivate lifelong habits for sustainable living through earned income strategies. This mission is accomplished through innovative Web-based technology, family-oriented educational materials, and the ongoing search for easier ways to make environmental activism accessible to all. Education and awareness is a start, but it's not enough. The only way to ensure the preservation of the land is to buy it, and set it aside for permanent preservation. The Cuipo Initiative pools the contributions of individuals and corporate partners and purchases large swaths of land, which are then transferred to its 501(c)3 nonprofit sister organization for permanent preservation.
###