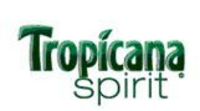 London, UK (PRWEB) June 27, 2008
New Tropicana Spirit is a unique range of refreshing, lightly sparkling juice drinks that is one of the first soft drinks to provide one of your five-a-day in every bottle. The new drink is a delicious yet simple blend of 70% juice and 30% lightly sparkling mineral water and is a healthier, more natural option to many traditional fizzy drinks. Tropicana Spirit contains none of the added sugar, artificial flavours, colours or preservatives found in many soft drinks.
The blend of fruit juice and sparkling water offers great-tasting refreshment that you can enjoy while on the go, and is a lighter alternative to fruit juice. The portion of fruit provided in each 400ml bottle counts as one of the recommended five-a-day fruit and vegetable portions.
Best served chilled, Tropicana Spirit is available in three thirst-quenching, fruity flavours and has been blended to cater for all taste buds:

Orange & Mango: sweet and full flavoured
Blueberry & Blackberry: subtle and refreshing
Lemon & Grapefruit: sharp and tangy
Tropicana Spirit is available now in all major high-street retailers priced £1.29, 400ml (RSP)
Get a splash of spirit into your life!
Nutritional Information:
Orange & Mango - 70% blended juice (orange juice 31%, white grape juice*, mango puree (11%), apple puree*, passion fruit puree* and 30% lightly sparkling mineral water.

One bottle contributes as one of the recommended 5-a-day
No added sugar
152 calories per 400ml (8% GDA)
Blueberry & Blackberry - 70% blended juice (apple juice & puree*, white grape juice*, blackberry juice* (6%), blueberry juice (5%), blackcurrant juice* and 30% lightly sparkling mineral water

One bottle contributes as one of the recommended 5-a-day
No added sugar
140 calories per 400ml (7% GDA)
Lemon & Grapefruit - 80% blended fruit juice (white grape*, grapefruit juice* (18%), apple puree*, lemon juice* (5%) and 20% lightly sparkling mineral water

One bottle contributes as one of the recommended 5-a-day
No added sugar
184 calories per 400ml (9% GDA)
# # #