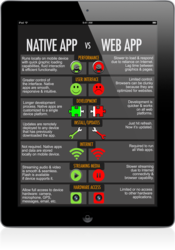 Our Mobile Sales Tool takes full advantage of Apple's iOS technologies.
San Diego, CA (PRWEB) May 15, 2012
Troy Apps Software, a leading developer of native iPad catalog applications, today announced the release of the Mobile Sales Tool, a native iPad application that modernizes the way B2B catalogs are presented to sales personnel, dealers and distributers.
With sophisticated and innovative features, the Mobile Sales Tool addresses the needs of today's sales force with a significant advantage over print catalogs and web-based apps. Content, images and videos are embedded within the digital catalog app itself, eliminating the need for any outside resources.
"Our Mobile Sales Tool takes full advantage of Apple's iOS technologies," said Michael Trautt, CEO of Troy Apps Software. "Unlike web-based apps, our software embeds all content into your device and does not require a browser or Internet connection to run. Your products and descriptions are available anytime, anywhere."
Companies are expected to roll out tens of thousands of iPads to sales personnel and marketing specialists in 2012. The Pharmaceutical and Medical industries were early adopters, as a few top players have reported deploying and testing anywhere from 1,000 to 4,500 iPads. The demand for iPads in the B2B sales process has created a new market for mobile application development.
"The Mobile Sales Tool greatly improves the relationship between sales personnel and distributors," said Trautt. "Some of our own early adopters here in San Diego County, including Epic Boats and CRM Learning, have already begun to see such improvements in their sales process."
With a quick and efficient interface, companies are able to put their best products in front of the buyer in less time. Placing an immediate order, emailing a product page with image or video, or even taking notes directly within the application are all customizable features.
Troy Apps Software develops each catalog to company requirements providing any of following features:

Custom CRM (Available)
Order Placement
Remote Update
Search
Email Product Page
Notes
Videos
Page Zoom
Navigation
Dealer Locator
Bookmarks
Printing
For more information on the Mobile Sales Tool or to view a demo, please visit http://www.troyapps.com.
About Troy Apps Software
Troy Apps Software is a leading developer of native iPad applications that transform traditional print catalogs and educational curriculum into an interactive tool on the iPad. With their attention focused on two thriving industries – sales and education – Troy Apps used their proprietary software to develop the Mobile Sales Tool and Mobile Learning Tool. The applications take full advantage of Apple's iOS technology, meaning your apps will run quickly (without an Internet connection) and look just as beautiful as the printed version. The company's security system replaces cloud-based storage, meaning personal information will never be transmitted over the Web. High security portals back every native app, eliminating the risks associated with online theft or malware.
About Native Applications
A native app is an application program that has been developed and designed for use on a particular device and specific operating system. It is locally installed on the mobile device and unlike a web app, it does not require an Internet connection or browser to run. Native apps are designed to focus solely on YOU – your content, your images, your videos are all embedded directly into the native app which is then installed on your mobile device. For more information on the difference between Native apps vs. Web apps, visit http://www.troyapps.com/oursoftware.