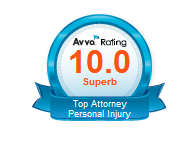 Austin, Texas (PRWEB) September 10, 2012
Avvo, an unbiased rating system for lawyers, has increased its rating for the Barry Law Group, a firm of Austin personal injury attorneys, from a 9.2 to a 10.0.
Avvo rates attorneys on a scale of 1-10 using a mathematical model to consider information from public records, Internet sources and information supplied to Avvo by the attorneys themselves.
Ratings of 9.0 and above earn attorneys a Superb ranking, but increases such as the 0.7 point jump for the Barry Law Group lend more authority to the attorneys.
Brett A. Burlison, one of the Austin car accident attorneys who helped earn the rating for the Barry Law Group, has top ratings for experience, industry recognition and professional conduct during his 10 years of experience.
"Rating systems like Avvo help people looking for attorneys to find an honest, experienced and respected attorney to help them," said Carl R. Barry, an Austin truck accident attorney with the Barry Law Group. "When people have suffered a personal injury, they need a system like this so they can find the right attorney for their case."
While the Avvo Rating isn't the only factor people should take into account when choosing an attorney, the Austin wrongful death attorneys at the Barry Law Group encourage people to look at a lawyer's Avvo profile before making a decision.
About the Barry Law Group
The Barry Law Group is a personal injury law firm in Austin, Texas. Attorneys Carl R. Barry and Brett A. Burlison have more than 20 years of litigation experience. Both attorneys are members of the Million Dollar Advocates Forum. Carl R. Barry has been recognized as a Texas Super Lawyer Rising Star three times and was named as one of the Top Attorneys and Outstanding Young Lawyers in the field of personal injury law for the state of Texas. Brett A. Burlison is licensed to practice in Texas and California and has been named as a California Super Lawyer Rising Star.
###