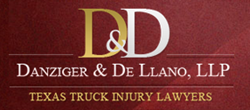 You treated me like I was important, you had a great deal of knowledge regarding not only the legal aspect of the case, but you also gave us hope
Houston, TX (PRWEB) January 09, 2014
Danziger & De Llano Law Firm, a Houston-based group of lawyers committed to helping businesses and individuals achieve justice, recently announced the launch of three new pages to its website, TexasTruckInjuryLawyers.com. The latest additions to the website include a truck injury FAQ page, a client testimonial category, and a section that provides information about the law firm.
The first added page offers clients a brief overview of the firm's truck injury FAQ. On this page, readers can find answers to popular questions such as "if I file a lawsuit about my truck accident, what kind of payment can I expect?" and "what is the most important thing that I should do after being involved in an accident with a truck?" Danziger & De Llano Law Firm answers each of the questions in detail, and the page is consistently updated with answers to new questions.
The client testimonials page displays all of the reviews and ratings from patrons of the law firm. New clients can use this page to assess Danziger & De Llano Law Firm's services and decide if the law firm is the right choice for them. The testimonials are varied and straight to the point.
"I contacted several attorneys before I reached you," said Karney Seymore, a former client, in his review of the law firm. "You treated me like I was important, you had a great deal of knowledge regarding not only the legal aspect of the case, but you also gave us hope."
The last new page provides information about the law firm and its attorneys, Paul Danziger and Rod De Llano. According to an article on the firm's website, Danziger and De Llano have a national reputation as one of the top personal injury lawyers in the business.
Individuals interested in learning more about Danziger & De Llano Law Firm and its work can visit the firm's website for more information. Customers can also subscribe to Danziger & De Llano Law Firm's Google+, Facebook, and Twitter accounts for frequent updates from the company.
About Danziger & De Llano, LLP:
Danziger & De Llano, LLP is a law firm dedicated to helping businesses, individuals, and their families. The firm is committed to providing its clients with superior client service and personal attention. When Danziger & De Llano, LLP accepts a case, it assigns a team of professionals including attorneys, legal assistants and support staff to guide the client through the legal process. Danziger & De Llano, LLP is devoted to ensuring that each client obtains full and just compensation for all of their injuries. For more information, please visit http://www.texastruckinjurylawyers.com