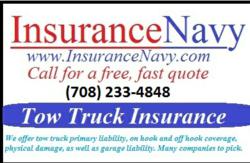 The Household Goods Mover industry consists of 7,000 companies and the US Department of Transportation receives approximately 3,000 consumer complaints related to household goods movers annually, some involving egregious offenses
Cicero, Illinois (PRWEB) October 25, 2012
Progressive commercial truck insurance offering of cargo coverage for Household Goods Movers is unacceptable effective 10/24/2012, according to a statement issued by progressive earlier. According to the statement, Household Goods Movers who presently have active Cargo coverage may keep the coverage while they remain in good standing. Businesses other than Household Goods Movers may still be eligible for Progressive cargo coverage.
Ed Snenneh of Insurance Navy, a leading provider of auto insurance, cargo and truck insurance in Illinois said that "while Progressive is one of the main insurers offering coverage for Household Goods Movers, the company represents the main hope for many younger operators, or operators with multiple traffic citations, or new ventures that want to get coverage for their household goods moving business." "The market will adjust to the changes although Progressive absence will surely affect the insurance offering and rates of a wide range of new ventures," Mr Snenneh added.
Last month the American Moving and Storage Association made a statement about "consumer abuses by unscrupulous rogue groups posing as legitimate household goods movers and brokers." The statement was part of the September 20, 2012 Congressional Testimony on consumer abuses in the household goods moving industry. The Household Goods Mover industry consists of 7,000 companies and the US Department of Transportation receives approximately 3,000 consumer complaints related to household goods movers annually, some involving egregious offenses, according to the statement.
About Insurance Navy
Insurance Navy is a leading provider of commercial auto insurance and cargo and truck insurance in Illinois. The agency offers personal and business insurance coverage for residents of Illinois, Indiana and Wisconsin. Insurance Navy partners with several managing general agents (MGAs) and commercial insurance carriers in Illinois.
Contact Information
Name: Ed Snenneh
Insurance Navy
Address: 5116 West Cermak Road, Cicero, IL 60804
Phone: (708) 863-9000
info(at)insurancenavy(dot)com