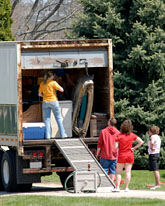 Moving Truck Rental, Simplifying the Moving Process
Baltimore, MD (PRWEB) April 04, 2013
Moving truck rentals have finally made their entrance into the world of mobile phones. MovingTruckRental.com launched its latest mobile-friendly website to help individuals request quotes from moving truck rentals. This is truly a trend-setting technology, considering the fact that no app needs to be downloaded. Visitors can simply visit MovingTruckRental.com through their mobile phone and initiate a price request.
MovingTruckRental.com has been connecting customers with moving truck rentals for over eight years. The new mobile platform is the latest in a foray of initiatives launched by the company to simplify the overall process of moving from A-B.
The company released its official press statement this morning:
"When customers are moving, they need to accomplish so many things within a very short period of time. From taking care of incoming mail to managing new rentals, the number of items on the "to do list" are simply never-ending. Due to time constraints, customers often do not spend an adequate amount of time to research moving truck rentals and end up choosing the wrong companies or irresponsible providers. Our website has been helping connect customers with service providers for over eight years. Just a few simple clicks facilitate the overall process of connecting both parties. We have taken this a step further now and with our latest mobile-friendly platform, our site's users can accomplish their research in thirty seconds flat -- that too from their cell phones."
Calvin Davis, CEO of MovingTruckRental.com added his remarks to the statement: "We are all about cutting layers, especially the ones that make the research process more cumbersome for customers. Our customers have been demanding a mobile site for a very long time and our latest release outperforms all their expectations. Customers can use their mobile phones to visit MovingTruckRental.com and request a quote from a moving truck rental. That's it. Say goodbye to research and put your thumbs to good use."
MovingTruckRental.com has been in existence for over eight years. The company allows any individual with access to the Internet to complete a simple form and receive instant quotes from moving truck rentals. Having served tens of thousands of customers, the site has perfected an algorithm that facilitates the match-making process within a matter of seconds. As soon as a user makes a request, several moving truck rental companies compete to provide their bid. The net result of the competition is that the user gets the best deal while the service provider lowers its marketing overhead. Everyone wins.
In addition to quotes from moving truck rentals, the company also provides internal reviews and ratings that help users understand how the company has performed over a long period of time. This added layer of due diligence ensures that only the most reputable and reliable providers gain access to customers' business and trust. The internal backing and support makes all the difference in the process.
For more information and to request a moving quote, visit http://www.movingtruckrental.com/moving-truck-rental.html today.