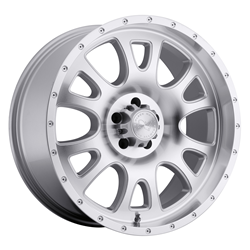 Black Rhino truck wheels are engineered with precision to handle the extra heavy loads and demanding environment of larger trucks and SUVs.
Huntington Beach, CA (PRWEB) June 13, 2014
Black Rhino, a leader in engineered truck wheels and SUV wheels and styled off road wheels, has introduced a street ready off-road style, the Lucerne, with an eye-catching, machined perimeter.
The Lucerne is a chiseled, split six-spoke beauty with a prominent triangular cutout in each of its six spokes, giving the wheel added dimension and distinctiveness. Lucerne off road rims is available in both Silver, with a machine-cut face and lip, and Matte Black, chosen to complete the look of a stock or lifted truck, or SUV.
"Black Rhino truck wheels are engineered with precision to handle the extra heavy loads and demanding environment of larger trucks and SUVs," commented Terence Scheckter, president of Black Rhino Wheels. "Lifted trucks and SUVs place extraordinary demands on wheels and each of the styles we offer are built to take the punishment," Scheckter added.
Black Rhino wheels are designed with truck enthusiasts in mind, with negative offsets geared towards lifted truck and SUV applications. Lucerne truck rims, in particular, are available in many different fitments, including 17" x 9", 18" x 9" and 20" x 9", with offsets from +12mm to 0mm to -12 mm, and in a comprehensive range of bore sizes and designed for 5 x 114.3, 5 x 127, 5 x 139.7, 5 x 150, 6 x 135, 8 x 165, 8 x 170 and 8 x 180 patterns. Full wheel specifications are available on the Black Rhino website. Some of the wheels have a massive machine-cut 2" lip. All wheels are either hub-centric, or supplied with centering rings to ensure a smooth, vibration-free ride.
How will the Lucerne truck rims and SUV rims look on the off-roader? Enthusiasts can pull into the Black Rhino online garage at http://www.blackrhinowheels.com/truck-wheels-configurator/ to choose their model, trim and color vehicle, then "try on" the Black Rhino wheels of their choice. Being able to visualize Black Rhino truck wheels on s vehicle makes it easier to choose the rims that make exactly the statement that enthusiasts want. Check out customer-uploaded photos of their vehicles fitted with Black Rhino rims at the showroom on the website. And, visitors to the website can upload their own photos after they have chosen their favorite Black Rhino wheel for their vehicle. In the meantime, they can click on the "Downloads" button to download the Black Rhino wheel of their dreams as a desktop image.
Black Rhino Wheels are part of the TSW family of aftermarket wheel companies. TSW wheels are born of a rich racing heritage. Founded by a former Formula One racing driver, TSW has been involved in motor racing around the globe for over 30 years. For a dealer near you, in the U.S. or Canada, call 1 888-766-7775 or visit Black Rhino Wheels on the web at on the web at blackrhinowheels.com. Black Rhino dealers are located throughout North America and worldwide, including Discount Tire Direct on the web at discounttiredirect.com.