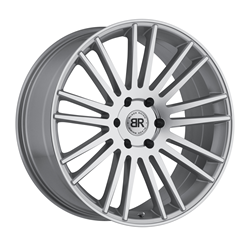 At Black Rhino we've made it our mission to meet and exceed those truck wheel requirements in terms of strength, quality and technical considerations, while still pushing the envelope in terms of design and finishes
Brea, CA (PRWEB) November 25, 2015
Cast in Black Rhino's proprietary hardened aluminum alloy, http://www.blackrhinowheels.com , the new Kruger is designed specifically for those truck and SUV owners always looking for opportunities to customize and distinguish their vehicles. Kruger wheels do exactly that, making a profound statement through both innovative design and sheer size. These new truck rims are available in 18, 20, 22 and 24-inch diameters in bolt patterns that can be viewed here http://www.blackrhinowheels.com/truck-wheels-truck-rims-kruger.php . Yet, for such large, powerfully built truck wheels, the Kruger design is light and sophisticated, with 9 pairs of narrow spokes radiating from the recessed hub to the very perimeter of the wheel. This upscale design is highlighted by the three available finishes, including gloss gunmetal, gloss black and silver with a brilliant mirror-cut face.
"City truck tuners have a unique set of requirements when they approach upgrading their tire and wheel package," observed Terence Scheckter, Black Rhino President. "At Black Rhino we've made it our mission to meet and exceed those truck wheel requirements in terms of strength, quality and technical considerations, while still pushing the envelope in terms of design and finishes," Scheckter added.
Black Rhino's Kruger truck wheels are available in seven different bolt patterns for five and six-lug lug wheels to cover a wide range trucks and SUVs, including the newest Chevy Colorado, GMC Canyon, Jeep Grand Cherokee and Dodge Durango SUVs. All are available in the positive offsets preferred by truck and SUV disciples.
The Kruger wheel is available only from authorized Black Rhino dealers, all specialists in ensuring a proper fitment to ensure safe performance and compatibility with truck brakes, suspensions and sheet metal.
The newly refreshed Black Rhino website, enables truck and SUV owners to experience what Kruger truck rims, and all 27 other Black Rhino designs, will look like on their vehicle. This is made possible by the "Wheel Configurator" tool, which enables shoppers to pull up an image of their year, model and color truck or SUV and "try on" each of the available Black Rhino models and finishes. Additionally the new website enables users to sort through the entire Black Rhino product line by vehicle, wheel size, construction methodology, style, design or finish. The Fitment Guide enables owners to identify each model and size that is a precisely compatible match for their year and model. Wheel descriptions provide a full technical summary for each wheel.
In the website's "Explore Black Rhino" section, which can be found at http://www.blackrhinowheels.com/explore/ the Technology and Company pages permit prospective customers to learn more about Black Rhino, the company, and to peruse the Customer Gallery of photos uploaded by actual customers of their vehicles outfitted with Black Rhino wheels. Useful dealer locator tools are on the website, searchable by zip code, by country outside the United States or by calling 1-888-766-7775. The dealer section enables users to get a quote from a Black Rhino dealer and enables dealers to access the company's Brea, California warehouse inventory to determine availability and to place orders. Orders received by 4pm ET are shipped the same business day.
The Black Rhino Wheels facebook page can be found at https://www.facebook.com/blackrhinotruckwheels and their instagram account can be found at https://instagram.com/blackrhinowheels/