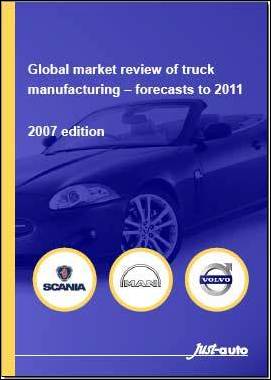 Bromsgrove, UK (PRWEB) April 17, 2007
A survey of US truck manufacturing industry participants undertaken by just-auto.com reveals that many in the industry expect the Class 8 market to drop by 43% in 2007 to around 182,400 units.
However, the pre-buy behaviour of last year's overstated US market meant that truck manufacturers fully expected the drop to follow and are adjusting capacity accordingly.
As 'big ticket' investment goods, freight truck sales are notoriously sensitive to economic conditions and regulatory changes.
Haulage firms look to renew equipment in the good times when the investment can be 'sweated' and they put off replacement when times are lean or the costs of doing so look high for some reason (such as high interest rates).
The resultant market swings can be huge, causing havoc in the truck manufacturing industry as capacity struggles to adjust.
The US heavy truck market is now entering a huge downswing as a result of a change to emissions rules ushered in by the EPA 07 emissions protocol on January 1 2007. EPA 07 compliant trucks boast added complexity and an expanded price tag.
The new tighter standard caused many US truck buyers to pre-buy ahead of the deadline.
By contrast, just-auto's researchers note that the European freight truck market is holding up rather well at present and that there was not a similar crash when a similar emissions standard, Euro 4, was introduced in October 2006.
European truck buyers are also adopting even tighter Euro 5 standards ahead of their mandatory introduction in 2009, helped by national incentives and the fact that the technical solutions preferred in Europe involve lower additional costs.
However, just-auto's analysis suggests that the legislative explanation does not explain the whole picture. Concerns over prospects for the US economy are also playing a role.
But will the European truck industry be able to avoid some fallout from the US industry's malaise this year? The US truck industry is, with the exception of Paccar and Navistar, owned by European firms. They'll undoubtedly feel some pain on their bottom lines.
And as the truck manufacturing business becomes an increasingly global rather than regionally based activity, global participants - truck makers and their parts suppliers - will find protection from stormy conditions in any part of the world harder to come by.
A major new report from just-auto examines developments in global heavy truck markets and manufacturing. It includes an assessment of all of the main manufacturers, key technical and legislative factors and considers prospects for sales and production to 2011.
The full just-auto.com report, 'Global market review of truck manufacturing - forecasts to 2011' is available for purchase from just-auto's online research store at http://www.just-auto.com/store/
About just-auto
Since March 1999, http://www.just-auto.com has developed into one of the most respected and fastest growing automotive trade sites globally. The site's unique news and research content is produced and sourced via a dedicated editorial team, worldwide network of correspondents and content partnerships. In addition, the just-auto.com research store provides instant access to over 1000 reports, books and research products from leading market information providers.
###