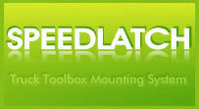 Speed Latch Systems hypes quick tool-free removal and replacement flexibility and no drilled holes in truck with the new truck toolbox mounting system.
Grand Ledge, MI (PRWEB) February 26, 2010
Speed Latch Systems, LLC has announced a new product used for mounting a cross-bed toolbox in the bed of virtually any pickup truck. According to Ronald Delong, President of Speed Latch Systems, LLC, "Until now, truck owners only had three options
for mounting their new toolbox and all three options had significant drawbacks. The biggest common drawback of all three methods was the lack of flexibility once the box was installed. None of the options provided a quick, convenient and tool-free way to remove the toolbox, when use of the full bed-space was needed. Effectively, truck owners had to trade nearly 20% of their cargo space for the convenience of having a toolbox. A Speed Latch mount not only eliminates that trade-off of cargo space by offering quick tool-free removal and replacement of the toolbox, it also provides a safe and secure toolbox mount without drilling any holes in the truck. That feature has proven especially attractive to owners who have a leased truck and to fleet managers who lease trucks for public agencies and in the construction trades."
Although Speed Latch is currently only available for purchase directly from the manufacturer on their website at http://www.SpeedLatch.net, the company has aggressive marketing plans for the new product. Speed Latch Systems Marketing Director, Norm Viaches, has the vision of making Speed Latch a virtual necessity for all truck toolbox owners. After coming on board, Viaches immediately began planning a two-fold marketing approach.
Viaches explained, "The first issue to address was gaining product awareness among truck toolbox owners. All box manufacturers have their nameplate slapped right on their product for the world to see. We have enjoyed tremendous word-of-mouth recognition from satisfied customers, but there was no other way for prospective customers to visualize all the trucks that are out there on the road taking advantage of this great product." To solve the first marketing issue, Speed Latch Systems created an edgy "Mount it Like a Man" window decal, which will be included free with every internet order shipped beginning in March of this year.
With the initial effort at gaining product awareness among truck owners underway, Speed Latch Systems, LLC has now turned its focus toward gaining product awareness among toolbox manufacturers. According to Viaches, "Ideally, the pinnacle… the holy grail for us is the day that Speed Latch mounting hardware is shipped inside every toolbox manufactured in the U.S. Once Speed Latch becomes known among the truck toolbox manufacturing community, the savvy truck box manufacturers out there will realize what a great augment to their toolbox the Speed Latch mounting hardware would be. With the multitude of toolbox brands out there in the marketplace, that customer who just spent $300 of their hard-earned money on a new toolbox should expect the most safe, secure and flexible truck toolbox mount available. We truly believe that Speed Latch delivers all of that and more."
# # #