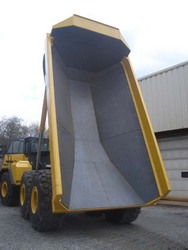 Reading, PA (Vocus) April 17, 2008
Quicksilver® liners have achieved continued success due to the productivity advantage realized by over the road haulers. Expanding on that suc-cess, Quadrant EPP announced their intent to broaden use in this market to the off-road industry by teaming up with Komatsu. QuickSilver truck liners will be included as a fac-tory option for the new HM400. This is a first for Komatsu® and the off-road truck indus-try. Quadrant's QuickSilver® was chosen due to its reputation for state of the art tech-nology, highest quality material, consistent thickness, width and quality. This commit-ment from a manufacturer solidifies the value a Quicksilver® liner can provide a hauler.
About Quadrant EPP
Quadrant EPP's products range from UHMW polyethylene, nylon and acetal to ultra-high performance polymers that resist temperatures to over 800 °F (425 °C). The company's products are used for machined parts in food processing and packaging, semiconductor manufacturing, aerospace, electronics, chemical processing, life sciences, power gen-eration and diverse industrial equipment. Quadrant EPP's products are supported by a global team of application development and technical service engineers.
Full support in evaluating designs and machining of parts is available from Quadrant En-gineering Plastic Products' Technical Support Group. Learn more about Quadrant at http://www.quadrantplastics.com.
Acetron, CleanStat, Duraspin, Duratron, Erta, Ertalyte, Ertalene, Ertalon, Extreme Materials, Fluorosint, Ketron, MC, Monocast, Nylatron, Nylasteel, Polypenco, Proteus, Sanalite, Semitron, Techtron, TIVAR and Vibratuf are registered trademarks of the Quadrant group of companies.
###