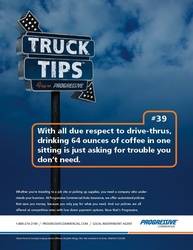 Truckers spend more time on the road than anyone, so they know better than anyone the common sense advice to follow and pitfalls to avoid
MAYFIELD VILLAGE, Ohio (PRWEB) October 27, 2008
Some truck tips will keep you healthy: If you're a trucker who eats out for every meal, make at least one a sit down meal that includes a vegetable or salad.
Some tips will save you money: If you're an interstate driver, buy fuel where fuel taxes are cheaper.
And one truck tip could put cash in your pocket. Enter Progressive's contest by submitting your best truck tips online at the Progressive Truck Tips Web site for a shot at a $5,000 grand prize. The winning truck tip will also be featured in a Progressive commercial auto insurance radio ad.
In addition to one grand prize winner, there will be six category winners of $500 each for:
Funny Tips Fuel Savings Tips On-the-Road Tips On-the-Job Tips Driving Tips Safety Tips "Truckers spend more time on the road than anyone, so they know better than anyone the common sense advice to follow and pitfalls to avoid," said Tom Corpus, with Progressive's commercial lines group. "We want to give them a chance to share their knowledge with other motor carriers, while giving them the opportunity to learn more about truck insurance."
The deadline for all truck tips submissions is March 31, 2009. For complete contest rules and more information, visit http://www.progressivetrucktips.com.
About Progressive
The Progressive Group of Insurance Companies, in business since 1937, is one of the country's largest auto insurance groups, the largest seller of motorcycle and personal watercraft policies, and a market leader in commercial auto insurance based on premiums written.
Progressive is committed to becoming consumers' #1 choice for auto insurance by providing competitive rates and innovative products and services that meet drivers' needs throughout their lifetimes, including superior online and in-person customer service, and best-in-class, 24-hour claims service, such as its concierge level of claims service available at service centers located in major metropolitan areas throughout the United States.
Progressive companies offer consumers choices in how to shop for, buy and manage their auto insurance policies. Progressive offers its products, including personal and commercial auto, motorcycle, boat and recreational vehicle insurance, through more than 30,000 independent insurance agencies throughout the U.S. and online and by phone directly from the Company. Private passenger auto products and prices are different when purchased directly from Progressive or through independent agencies. To find an agent or to get a quote, go to http://www.progressive.com.