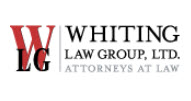 We are proud of our record of fighting for the rights of our clients
Chicago, IL (PRWEB) August 16, 2012
Whiting Law Group, a Chicago personal injury law firm was successful in a $2.5 million judgment on behalf of their client who was severely injured when an SUV veered out of control at a Crestwood, Illinois auto auction. The case (# 2008 L 003171) was filed in Cook County, Illinois.
Whiting Law Group's client, a car dealer, was attending an auto auction when he was struck by a sport utility truck causing extensive injuries to his legs and back. The law firm filed a complaint alleging that the defendant failed to take reasonable actions to bring the vehicle safely to a stop and avoid striking the plaintiff. Due to extensive injuries to his legs and back, their client required a team of medical experts and further surgeries were needed precluding his return to work.
Further difficulties surfaced in this highly complex automobile injury case namely due to the large number of crash victims; a total of 15 persons were affected by the runaway vehicle. The plaintiff retained Whiting Law Group and their case was led by founder and managing partner, Timothy M. Whiting along with the firm's auto accident lawyers and their team of vehicular accident experts. Whiting Law Group worked on this intricate case for over four years.
Knowing that they needed to prove gross negligence by the defendant, Whiting Law Group litigators and industry experts purchased the same vehicle that had veered out of control and injured their client. They reconstructed the accident from every conceivable angle to prove that the defendant's negligence caused the accident.
"We are proud of our record of fighting for the rights of our clients," said Timothy Whiting. "Through our careful preparation and willingness to do whatever it takes, including taking the case to trial, we were able to encourage the defendant to extend a fair and reasonable settlement offer. Our commitment to our client was because he and his family deserved nothing less."
The night before the trial was scheduled to begin; the defendant offered a settlement for the automobile accident after admitting to liability in the law suit. Whiting Law Groups' strategy of testing vehicles and retaining engineering experts proving it was the error of the driver and not a result of mechanical error prevailed. And, Whiting Law Group further proved that because of their client's injuries, he was not able to return to work which factored into the settlement.
Whiting Law Group's commitment to their client and aggressive litigation tactics were instrumental in securing the $2.5 million settlement. Through the law firm's investment to test vehicles and partner with leading engineering experts to prove mechanical negligence, justice was not only served but earned.
About Whiting Law Group
Whiting Law Group is an Illinois and Wisconsin based law firm concentrating its practice in serious personal injury matters, wrongful death and medical malpractice actions. Founded in 2001 by partner Timothy M. Whiting on the foundation of dedication, hard work and passion, Whiting Law Group offers the highest quality of service to their clients.
With a 96% success rate of earned recoveries in their cases, Whiting Law Group consistently achieves positive financial awards for their clients, many times resolving their cases in less than 24 months.