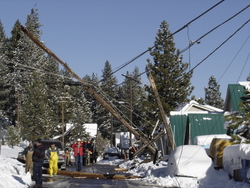 We have saved significantly on deployment costs and now have unlimited licenses in addition to the software, maintenance, and training benefits we needed
Redlands, CA (PRWEB) April 24, 2009
Truckee Donner Public Utility District more than doubled its number of field crew equipped with mobile geographic information system (GIS) technology thanks to unlimited licenses provided in ESRI's Small Utility Enterprise License Agreement (SU-ELA) program. The SU-ELA program is designed to make GIS more affordable for small utilities in the United States with 100,000 meters/connections or fewer.
Truckee Donner serves 12,000 electric meters and 11,500 water meters in Northern California. Through the SU-ELA program, the utility is assured unlimited deployments to desktop, server, and mobile devices of ESRI's ArcGIS platform, along with maintenance and support for products. Other benefits include staff training for a reduced cost and complimentary passes to ESRI's International User Conference.
"We have saved significantly on deployment costs and now have unlimited licenses in addition to the software, maintenance, and training benefits we needed," said Ian Fitzgerald, GIS coordinator, Truckee Donner Public Utility District. "By signing the SU-ELA, we went from 8 to 20 workers with GIS capabilities. We are now able to expand GIS to an indefinite number of users and bring our entire crew up to the level of the foreman in terms of knowledge of what's in the field."
With information accessible via mobile GIS devices rather than a paper map, Truckee Donner staff is able to make better decisions. Additionally, having accurate data on demand has improved the utility's response time and customer service.
"During our winter snowfall, it can be difficult to locate facilities, but GIS helps our crews quickly find and fix leaks," Fitzgerald said. "Also, our operations and maintenance personnel are able to use GIS-based intelligent modeling tools to quickly determine which areas need to be isolated to repair the leak."
At the heart of the SU-ELA program is ESRI's ArcGIS software, an open, scalable, and interoperable platform that provides a complete system to create, serve, and use geographic information. An enterprise GIS, based on ArcGIS technology, benefits designers, analysts, decision makers, field staff, and customers through mobile, Web server, and desktop applications.
For more information on the SU-ELA program and to listen to the SU-ELA podcast, visit http://www.esri.com/suela. To speak to an expert, call 800-447-9778, extension 2990.
About ESRI
Since 1969, ESRI has been giving customers around the world the power to think and plan geographically. The market leader in GIS, ESRI software is used in more than 300,000 organizations worldwide including each of the 200 largest cities in the United States, most national governments, more than two-thirds of Fortune 500 companies, and more than 7,000 colleges and universities. ESRI applications, running on more than one million desktops and thousands of Web and enterprise servers, provide the backbone for the world's mapping and spatial analysis. ESRI is the only vendor that provides complete technical solutions for desktop, mobile, server, and Internet platforms. Visit us at http://www.esri.com.
ESRI, the ESRI globe logo, GIS by ESRI, ArcGIS, http://www.esri.com, and @esri.com are trademarks, registered trademarks, or service marks of ESRI in the United States, the European Community, or certain other jurisdictions. Other companies and products mentioned herein may be trademarks or registered trademarks of their respective trademark owners.
###