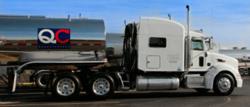 Tampa, FL (PRWEB) December 27, 2012
Established in 1913 as a one-truck operation in Pennsylvania and evolving into a Tampa based firm with over 5500 trailers, 3000 tractors and 100 terminals in both the US and Canada, Quality Carriers has become the largest North American transporter of its kind. Proud of its success, the company also prides itself in living up to their name, with quality being their method of operation as well. Committed to providing their customers with safe, efficient, error free service, Quality Carriers demands those capabilities from their drivers and also recognizes the value of investing in their quality team. Not only does this mean paying the most competitive wages in the industry, it is also optimizing the driver experience by creating an open line of communication and tuning into their driver's needs on a company wide scale.
When the average turnover in the trucking industry is at 127% and Quality Carriers turnover rate has averaged 49% since 2006, the company has recognized that working with the different wants and needs of their individual drivers, in turn works for the company as a whole. Currently seeking both company drivers and owner/operators, Quality Carriers offers a wide variety of possible freight options to fit the needs of each potential driver and positions ranging from local dedicated highly specified runs, to regional runs (still getting drivers home two to three times a week), and over the road runs (often reloadable and still getting drivers home more often than most other companies). The company also makes it lucrative for new hires from the sign on bonuses and paid orientation right at the start, above average salaries such as their owner/operators averaging $158,000 per year, to the retirement plans taking care of their company drivers right to the end.
However, all truck driving opportunities with Quality Carriers are tanker positions, requiring require both HAZMAT and Tank Endorsements in addition to regular CDLs. Tanker trucks are powerful vehicles that haul liquid or semi-liquid cargo in long metal containers. The cargo can often be dangerous and the liquids can be flammable, poisonous or even explosive, and driving trucks with heavy liquid also requires a different touch than hauling dry goods. All these factors demand tanker drivers to have more extensive training, but the industry's demand for their specialized knowledge and skills translates into higher paying positions and unlimited opportunities in an already high demand field. In today's job market, this is becoming an increasingly rare position to be in.