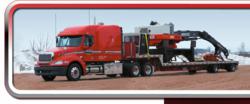 Marshfield, Wisconsin (PRWEB) January 08, 2013
Since establishing itself as a single truck carrier in 1962, Roehl Transport has grown to a fleet of more than 1,900 power units and 4,600 trailers, operating throughout 48 states as well as Canada. The company's commitment to quality, efficiency, timely service, kept promises, courtesy, reliability and a respected public image has distinguished themselves with hundreds of awards. From its reputation as the safest carrier in the nation to its recognition as one of the best-managed trucking companies in the industry, Roehl Transport is amongst the top contenders for today's limited pool of truck drivers. Partnering with the industry's better known job sites is what gives these companies the competitive edge of appealing to an unlimited audience on-line and TruckingUnlimited.com has become a trusted source for truck drivers seeking the better quality jobs.
With Roehl Transport's company president, Rick Roehl, being a second-generation truck driver who still gets behind the wheel himself, drivers can trust an employer who knows what life is like on the road and for their families, is more likely to steer them right. Believing it is essential for drivers to trust their employers, Roehl's commitment to earning that trust is also what distinguishes himself among today's best. With the same combination of qualities that has continually grown the company's success for over 50 years, Safety, Stability and Opportunity is what Roehl Transport is also able to assure their team. Despite the economy's up and downs, or whether a driver is experienced or just starting out, the company's rock solid history can assure potential new hires of making the right choice for the best possible future of their career and their family's well being as well.
Considering drivers to be the heart and soul of their company, Roehl goes the extra mile in offering the care and solutions to help drivers meet their professional and personal goals. From its own top notch training program starting new drivers in paid positions to learn invaluable skills, to a variety of fleets with dedicated runs, to individual pay plans, to truck ownership opportunities to fleet management positions as well, their commitment to succeeding drivers on a legitimate career track has also succeeded in hundreds of drivers committing to the company beyond the five years mark. Perhaps most importantly in today's trucking industry is Roehl's approach to the relationship between income and home time. Unlike other companies where higher earnings require being gone for weeks at a time, Roehl combines advanced technology, a strategically structured customer base and driver-friendly operations, allowing their drives to still earn high while enjoying more downtime at home.